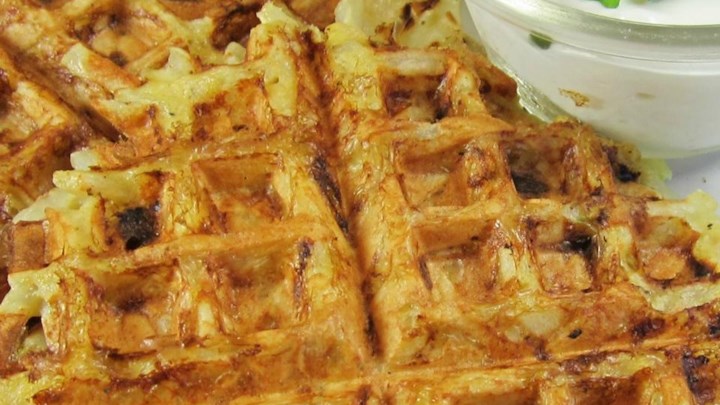 1 pound yellow potatoes, shredded
cold water to cover
2 tablespoons vegetable oil
1 clove garlic, minced
1/2 teaspoon salt
1/4 teaspoon ground black pepper
1/4 teaspoon smoked paprika
2 eggs, lightly beaten
cooking spray
Preheat waffle iron according to manufacturer's instructions.
Spray waffle iron with cooking spray.
Place shredded potatoes in a bowl.
Pour enough cold water over potatoes to cover; soak for 2 to 3 minutes.
Drain and rinse to remove starch.
Squeeze water out of potatoes by hand or by rolling in a clean kitchen towel and twisting towel to wring out water.
Toss potatoes with oil, garlic, salt, pepper, and paprika in a bowl until evenly coated.
Stir eggs into potato mixture.
Spoon half the potato mixture into preheated waffle iron;
cook until potatoes are tender and golden brown, 5 to 8 minutes.
Repeat with remaining potato mixture.