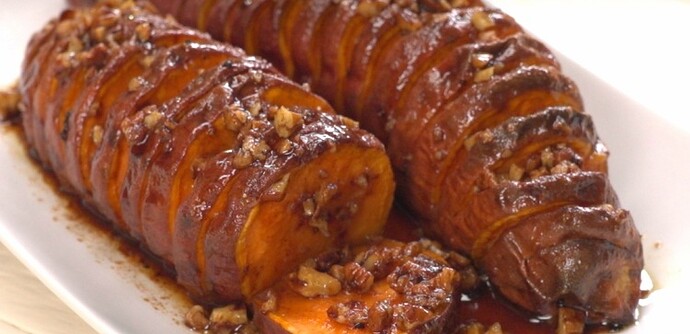 2 medium sweet potatoes
1 tablespoon vegetable oil
Salt and black pepper, to taste
2 tablespoons butter, melted
1 teaspoon ground cinnamon
¼ cup pecans chopped
¼ cup maple syrup
½ teaspoon pure vanilla extract
½ teaspoon kosher salt
Preheat oven to 425 degrees Fahrenheit (218 degrees Celsius).
Place a sweet potato between two chopsticks for stability and knife guidance. Every ¼-inch along the length of the sweet potato, slice ? of the way through, or until the knife hits the chopsticks. (The chopsticks will help prevent the knife from cutting all the way through the sweet potato.) Repeat with the second potato.
Brush the sweet potatoes with the vegetable oil. Place in a small baking dish and season with salt and pepper to taste.
Bake the sweet potatoes for 30 to 40 minutes, or until soft.
Remove the sweet potatoes from the oven, and increase the oven temperature to 450 degrees Fahrenheit (230 degrees Celsius).
In a small bowl, combine the melted butter, ground cinnamon, chopped pecans, maple syrup, vanilla extract, and kosher salt. Stir to mix.
Spoon the maple syrup mixture over and in between the baked sweet potato slices, pushing the pecan pieces in between each slice.
Return the filled sweet potatoes to the oven and bake an additional 8 to 10 minutes.
Remove the baked sweet potatoes from the oven and spoon any cooking liquid over the potatoes. Allow them to cool slightly before serving.