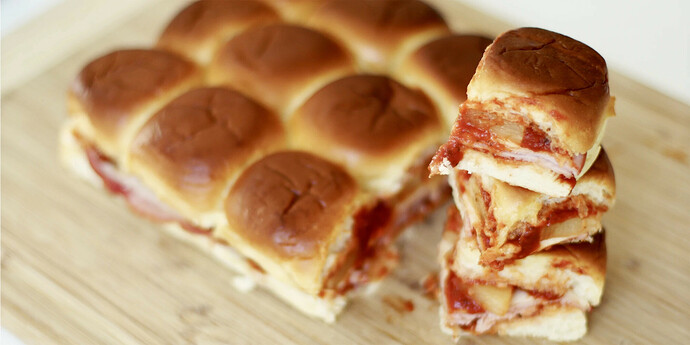 1 package Hawaiian rolls
1 jar pizza sauce, divided
6 slices deli ham
6 slices mozzarella cheese
1 can sliced pineapple drained
2 tablespoons butter
1 tablespoon garlic
Preheat oven to 375 F.
Cut the sheet of Hawaiian rolls in half crosswise and set top half aside.
Place bottom half of rolls in baking dish.
To the bottom half of rolls, add (in this order) half the pizza sauce, ham, cheese, pineapple and the remaining half of pizza sauce.
Place top half of rolls on top.
Melt butter in pan with garlic until fragrant.
Brush garlic-butter mixture over top of rolls and bake in the oven for 15 minutes.
Note
Feel free to leave out pineapple if you don't like pineapple on pizza.