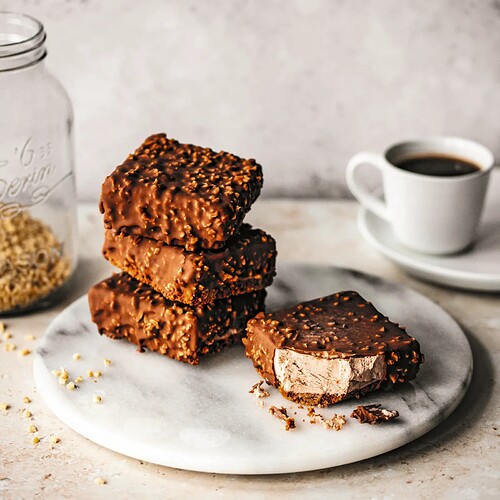 For the crust:
9oz Lotus Biscoff cookies
1/3 cup toasted hazelnuts
1/4 teaspoon fine sea salt
6 tablespoons unsalted butter, melted
For the cheesecake:
1 cup heavy cream, chilled
1 teaspoon vanilla bean paste
3 1/8 cups full-fat cream cheese, at room temperature
1 cup powdered sugar
1/2 cup chocolate hazelnut spread, at room temperature
1/4 teaspoon fine sea salt
For the shell:
6oz milk chocolate, roughly chopped
1/8 cup plus 1 tablespoon coconut oil
1/4 cup toasted hazelnuts, finely chopped
Lightly grease your 9 x 13 inch baking tin and line with a large single sheet of parchment paper that fully covers both base and sides.
Add the cookies, hazelnuts and salt to a food processor fitted with the blade attachment and pulse until ground to fine crumbs. Pour in the melted butter and pulse until evenly mixed. Scrape the mixture into the prepared tin and use the base of a glass or measuring cup to compact evenly. Set aside.
For the cheesecake, put the cream and vanilla into a large bowl and whisk into soft peaks. Set aside.
Put the cream cheese, icing sugar, chocolate spread and sea salt into another bowl and use an electric mixer to beat together until smooth and combined, about 2 minutes.
Add the whipped vanilla cream to the cheesecake mixture and fold together until evenly combined. Scrape this into the tin and spread evenly. Cover and place in the freezer until the cheesecake is solid, about 4 hours.
For the shell, melt the chocolate and coconut oil in a heatproof bowl in a microwave, using short bursts of heat to prevent it from burning, or over a pan of simmering water. Once melted, stir in the chopped hazelnuts, then set aside for at least 10 minutes before using.
To serve, use the parchment paper to carefully lift the frozen cheesecake from the tin and transfer it to a board. Cut into squares, then dip them into the chocolate mixture or simply pour a little of it on top of them. I like to serve the rochers while still firm from the freezer, almost like ice cream, but if you prefer, you can leave them to soften so that the cheesecake has a more mousse-like texture.