Yes, you can bake the most amazing coffee cake using this secret recipe from the Heirloom Bakery and Café in South Pasadena, California. The secret to this cake is the use of sour cream. You'll love the light texture and subtle tang of this simple coffee cake. The best part is the crumbly topping of brown sugar, cinnamon, pecans and chocolate chips. So yummy! I highly recommend you try this recipe.
We have an endless selection of delicious cake recipes here.
Enjoy!
=-=-=-=-=-=-=-=-=-=-=-=-=-=-=-=-=-=-=-=-=-=-=
The Alpine Secret For Healthy Weight Loss.
=-=-=-=-=-=-=-=-=-=-=-=-=-=-=-=-=-=-=-=-=-=-=
=-=-=-=-=-=-=-=-=-=-=-=-=
New Secret Recipe Alert
=-=-=-=-=-=-=-=-=-=-=-=-=
Heirloom Bakery and Cafe's Sour Cream Coffeecake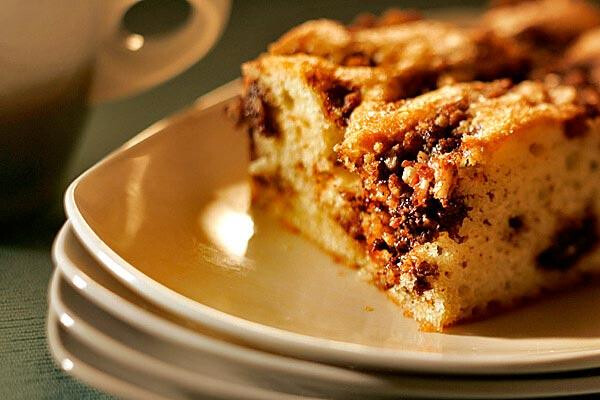 Topping:
1/2 cup light brown sugar
1 tablespoon cocoa
1 teaspoon cinnamon
1/2 cup chocolate chips
1/2 cup chopped pecans
1/4 cup (1/2 stick) butter, melted and cooled
In a large bowl, stir together the brown sugar, cocoa, cinnamon, chocolate chips, pecans and butter. Set aside.
Cake and assembly:
1/2 cup (1 stick) butter
1 cup plus 1 1/2 tablespoons sugar
2 eggs
1 cup sour cream
1/2 teaspoon vanilla extract
1 1/2 cups (6.4 ounces) flour
1 teaspoon baking soda
1/4 teaspoon salt
Prepared topping
Heat the oven to 350 degrees F.

In the bowl of a stand mixer, or in a large bowl using a hand mixer, cream together the butter and sugar until light and fluffy, about 3 to 5 minutes. Beat in the eggs, one at a time, until incorporated, then beat in the sour cream and vanilla.

In a medium bowl, sift together the flour, baking soda and salt.

Gently fold the dry ingredients into the butter and egg mixture to form a batter. The batter will be lumpy; simply continue folding until no large lumps remain.

Spoon one-half of the batter into a greased 9-inch-square baking pan, then layer with half of the topping. Layer with the remaining batter, then the remaining topping. Bake until the coffee cake is puffed and golden and a toothpick inserted in the center comes out clean, about 45 minutes. Cool slightly before serving.
Serves 8-12
Source: LA Times
Until Next Time… Be Well!
RSN