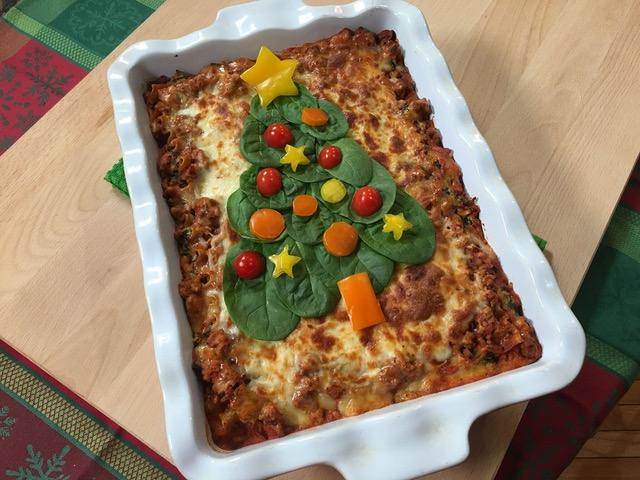 1 pound ground turkey, 93% lean
Nonstick oil spray
24 ounces (1 large jar) your favorite tomato or marinara sauce
1 cup water, divided
2 cups part-skim ricotta cheese
1 egg
1 egg white
1 teaspoon garlic powder
1/2 teaspoon ground black pepper
1/2 teaspoon dried basil
1/2 teaspoon dried oregano
20 ounces frozen, chopped spinach, thawed and thoroughly drained of water
9 whole-grain lasagna noodles, uncooked
1½ cups shredded part-skim mozzarella cheese
Baby spinach leaves, for garnish
Star-shaped bell peppers, for garnish
Cherry tomatoes, halved, for garnish
Cook the turkey in a medium nonstick pan coated with nonstick oil spray over medium heat until there is no pink remaining. Make sure to crumble the turkey as it's cooking with rubber spatula or wooden spoon. Drain off fat.

Add the marinara sauce plus 1/2 cup water to the pan with the cooked turkey. Mix thoroughly, cover and shut off heat, then set aside.

Preheat the oven to 350°F. Coat a 9-by-13-inch baking dish with nonstick oil spray.

In a large bowl, mix together the ricotta cheese, egg, egg white, garlic powder, pepper, basil, and oregano. Add the drained spinach and mix again thoroughly.

Cover the bottom of the pan with a thin layer of meat sauce (about 1/2 cup) and place 3 of the uncooked lasagna noodles. Top with half of the spinach-ricotta mixture and about 1 cup of the meat sauce mixture, then a layer of 3 more noodles. Top with the remaining spinach-ricotta mixture and the remaining 3 lasagna noodles. Pour the remaining meat sauce over the top. Sprinkle on the mozzarella cheese.

Pour about 1/2 cup of water around the edge of the pan (this will cook the noodles), and cover the pan tightly with aluminum foil. (TIP: Spray the inner side of tin foil with nonstick oil spray before covering the lasagna so the cheese doesn't stick to the top.)

Bake for 45 minutes. Remove the foil and bake uncovered for 30 more minutes. Let cool for 10 to 15 minutes.

Add baby spinach leaves on top in the shape of a Christmas tree and decorate with star-shaped bell peppers and sliced cherry tomatoes as ornaments.