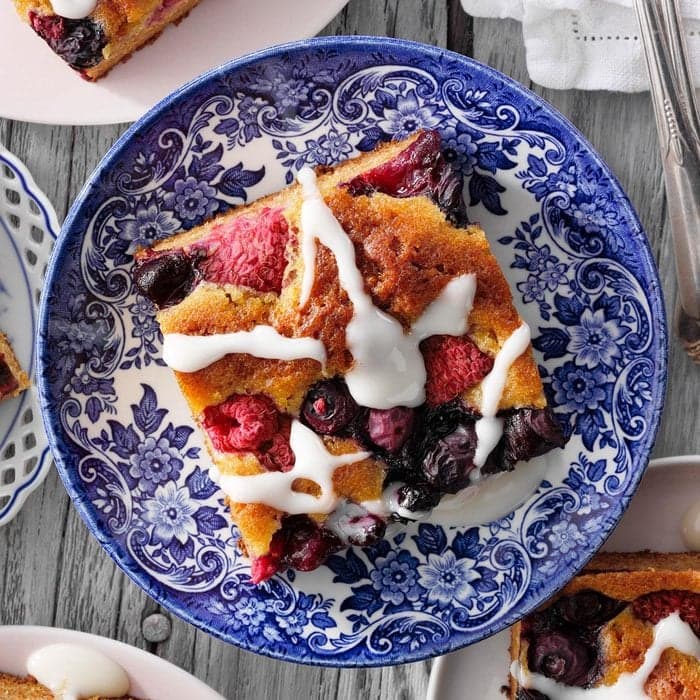 1 cup sugar
1 cup canola oil
1 cup honey
3 large eggs
1/2 cup orange juice
1 teaspoon vanilla extract
3-1/2 cups all-purpose flour
1 teaspoon baking powder
1 teaspoon baking soda
1/2 teaspoon salt
1 cup fresh or frozen raspberries
1 cup fresh or frozen blueberries
GLAZE:
1 cup confectioners' sugar
2 tablespoons honey
2 tablespoons 2% milk
Preheat oven to 350°. Grease a 13x9-in. baking pan. In a large bowl, beat sugar, oil, honey, eggs, orange juice and vanilla until well blended. In another bowl, whisk flour, baking powder, baking soda and salt; gradually beat into sugar mixture.
Transfer to prepared pan. Bake for 15 minutes. Sprinkle top of cake with raspberries and blueberries. Bake until a toothpick inserted in center comes out clean, 30-35 minutes longer. Cool completely in pan on a wire rack.
Combine glaze ingredients; drizzle over cake. Serve with additional berries if desired.