How to Survive Inflation with the Rising Cost of Food
Secrets Are Revealed in the Ultimate Guide to Saving Money on Groceries
The tips and techniques I share in How to Survive Inflation with the Rising Cost of Food are helping people just like you save hundreds of dollars on their grocery bills.
You can serve your favorite meals at a fraction of the cost. It's easy and I'll show you how!
Discount Cookbook Club Members Get This Cookbook Free (password required):

(The cookbook club is a paid subscription that is separate from our free recipe forums)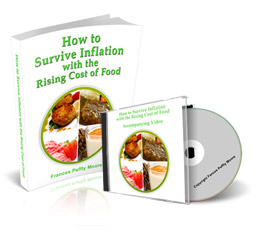 This 228 page illustrated ebook includes…
practical tips and ideas for how to save money at the grocery store.
low cost homemade recipes for expensive store mixes and dressings.
tips on how to store food to extend shelf life and save money.
easy recipes for making high priced snack foods at home at 50% savings or more.
instructions for how to make popular restaurant appetizers at budget-friendly prices !
- Non Members Can Sign Up Here
- Or To Order This Title Separately Click Here