Humphrey's Restaurant Cajun Shrimp and Corn Chowder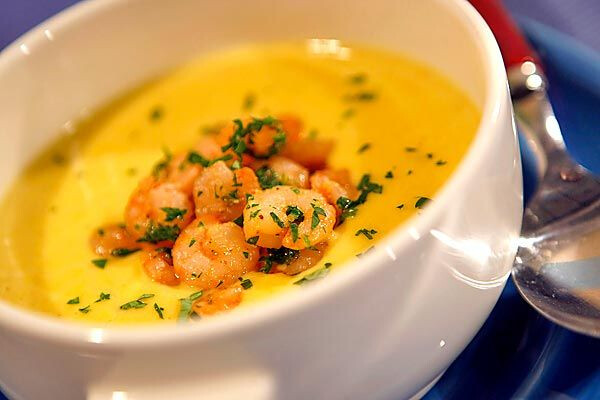 Prep time: 10 minutes
Cook time: 47 minutes
Serves 4 to 6
Adapted by the Los Angeles Times from Humphrey's Restaurant in San Diego.
Cajun and Creole spice blends can be found in the
prepackaged spice sections of most supermarkets.
Ingredients:
3 tablespoons butter, divided
1 large onion, diced
1 tablespoon plus 1/2 teaspoon Cajun or Creole spice or seasoning, divided, more to taste
Two 12-ounce boxes frozen corn
2 cups chicken stock, more as needed
1 cup bay shrimp
1 cup heavy cream, more to taste
Chopped parsley, garnish
Instructions:
In a large saucepan over medium heat, melt 2 1/2 tablespoons
butter. Add the onions and cook until softened and
translucent, about 5 minutes, stirring occasionally.
Stir in 1 tablespoon Cajun spice, corn and chicken stock and
bring to a simmer. Cook until the corn is cooked through,
about 20 minutes.
While the soup is cooking, sauté the shrimp. Season the
shrimp with the remaining Cajun spice. Heat a large sauté
pan over high heat, melt the remaining butter and quickly
sauté the shrimp until warmed through, about 2 minutes.
Remove from heat and move the shrimp to a bowl. Set aside in
a warm place.
Stir the heavy cream into the soup and heat to a gentle
simmer. Cook an additional 10 to 15 minutes to thicken the
soup slightly. Remove from heat and purée the soup until
smooth. Adjust the seasoning as needed and stir in
additional cream if desired. Stir in the cooked shrimp.
Serve the soup garnished with a sprinkling of chopped
parsley.
Per serving, based on 6: 323 calories; 10 grams protein; 33
grams carbohydrates; 4 grams fiber; 19 grams fat; 11 grams
saturated fat; 87 mg. cholesterol; 7 grams sugar; 476 mg.
sodium.
Source: Sacramento Bee newspaper, Mar 16, 2011.