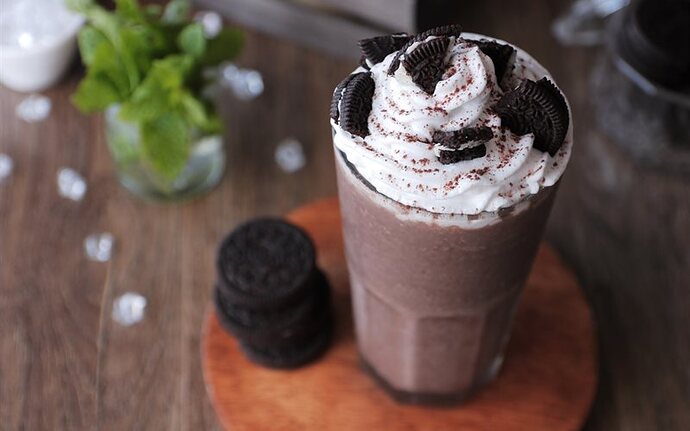 Oreo ice blended is a favorite drink of many young people, the sweetness of milk and fresh cream, the slightly bitter taste of oreo and chocolate, while drinking and chewing oreo cake with nothing.
Ingredients:
Oreo cookies 4 pieces
Fresh milk 70ml
Condensed milk 50 ml
Fat cream 30 ml
30 ml of chocolate syrup
Cream topping 150ml
Instructions:
You break 4 oreo cakes into the blender. You should choose the right Oreo cookies to make the best Cookie Ice blended.
Then you add 70 ml of fresh milk, 50 ml of condensed milk, 30ml of fat cream, add crushed ice and 30ml of chocolate syrup and then puree.
After purring, you pour out a chilled glass, add the cream topping, decorate with cracked oreo cake and sprinkle with a little extra cocoa to enjoy this delicious ice cream cookie.
Oreo ice blended with the fatty sweetness of milk, the special bitter taste of oreo, cool ice cream will be a drink that will satisfy your taste on hot summer days. This method of making the oreo ice blend gives the most basic flavor of a glass of ice blended. If you make it, you can make a little caramel syrup and crushed basil.