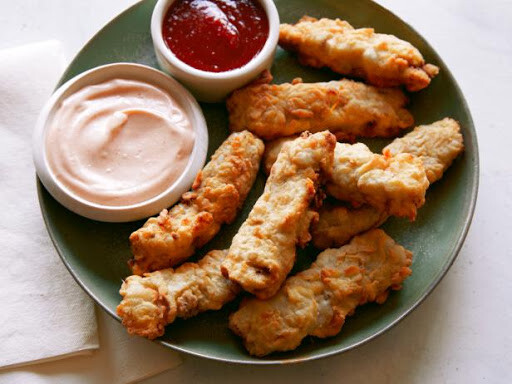 1 pound boneless beef sirloin or cube steak (about 1/2-inch thick)
2 cups buttermilk
1 teaspoon Worcestershire sauce
kosher salt and freshly ground black pepper
2 teaspoons granulated garlic
2 teaspoons dry mustard
2 teaspoons sweet paprika
vegetable oil, for frying
2 cups all-purpose flour
cocktail sauce, for serving, optional
french fries, for serving, optional
1/3 cup mayonnaise
1/3 cup ketchup
1 teaspoon Worcestershire sauce
1 teaspoon apple cider vinegar
1/2 teaspoon sweet paprika
kosher salt and freshy ground black pepper
For the finger steaks: Trim the excess fat and silver skin from the steak and cut into strips about 1/2 inch wide and 2 to 3 inches long.
Whisk together the buttermilk, Worcestershire, 2 teaspoons salt and 1 teaspoon each pepper, granulated garlic, dry mustard and paprika in a large bowl. Add the steak strips to the buttermilk mixture, toss to coat, then cover and refrigerate for 2 hours.
For the fry sauce: Meanwhile, whisk together the mayonnaise, ketchup, Worcestershire, vinegar, paprika, a good pinch of salt and several grinds of pepper in a medium bowl until smooth and combined. Cover with plastic wrap and refrigerate until ready to serve, up to 2 days.
Fill a large Dutch oven with about 3 inches of oil. Attach a deep-fry thermometer and heat to 350 degrees F.
Whisk together the flour, 2 teaspoons salt and the remaining 1 teaspoon each pepper, granulated garlic, dry mustard and paprika in a shallow dish. Line a plate with paper towels.
Remove the meat from the marinade to a plate using a slotted spoon. Reserve the buttermilk mixture in the bowl. In batches, dredge the steak strips in the seasoned flour, then into the buttermilk mixture, and back again into the seasoned flour until well coated.
Place a few battered steak strips in the hot oil. Fry, stirring occasionally, until golden brown and crispy, about 4 minutes. Remove with a clean slotted spoon onto the prepared plate. Repeat with the remaining steak strips.
Serve with fry sauce, cocktail sauce and French fries if desired.