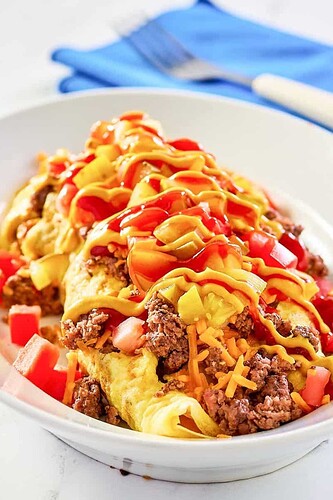 ⅓ pound ground beef
⅛ teaspoon ground black pepper
½ teaspoon salt divided use
1 teaspoon vegetable oil
½ cup shredded hash brown potatoes frozen hashbrowns work well, as do refrigerated ones from the produce section
4 eggs
2 tablespoons prepared pancake batter optional
⅛ cup water
nonstick spray
½ cup shredded Cheddar cheese
1 tablespoon chopped tomato
1 tablespoon chopped dill pickles
1 tablespoon ketchup
1 tablespoon mustard
Place the ground beef into a small bowl and season with pepper and 1/4 teaspoon salt. Stir to combine.
Place the meat into an iron or stainless steel skillet over medium heat. Break up the meat, and cook until it is browned and thoroughly cooked through. Remove the meat from the pan and set aside.
Wipe out the skillet with a paper towel. Place the vegetable oil in the skillet.
When the oil is hot, add the hash browns. Spread the hash browns into a single layer, and leave them undisturbed over medium heat until the edges become browned and crispy.
Flip the hash browns and cook for another minute or two, and set aside.
In a small bowl, add the eggs, water, 1/4 teaspoon salt, and the pancake batter, if desired. Whisk until the eggs are uniform in texture.
Spray a 10-inch non-stick pan with non-stick spray and heat the pan over medium-low heat.
Pour the eggs into the pan, and let them set up until they are almost done.
Top the eggs with half of the cooked ground beef, all of the hash browns, and half of the Cheddar.
Roll the omelet up and transfer to a serving plate.
Garnish the omelet with the remaining ground meat and Cheddar.
Top with tomatoes, dill pickles, and a drizzle of ketchup and mustard.