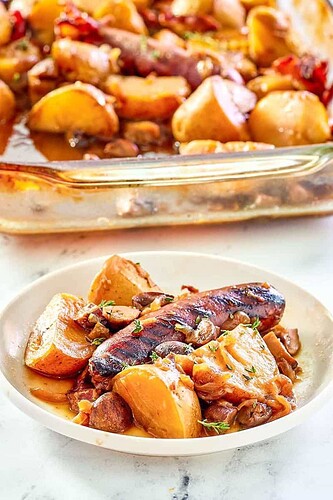 2 pounds Yukon Gold potatoes quartered
8 thick slices hickory-smoked bacon
1 pound pork sausages
2 cloves garlic roasted
2 large onions julienned
1 pound cremini mushrooms
1 1/2 cups beef broth
12 ounces Guinness Stout
2 tablespoons fresh thyme
1/2 teaspoon salt
1/4 teaspoon black pepper
2 tablespoons unsalted butter
Irish soda bread to serve (optional)
Blanch the potatoes until just tender.
Grill the slab bacon and pork sausages until the bacon is crispy and the sausages are cooked through (this can also be done in the oven).
Preheat the oven to 350°F.
In a small pan, sauté the garlic, onions, mushrooms, and blanched potatoes.
Place the bacon, sausages, and sautéed vegetables in a roasting pan or casserole dish. Add the broth and Guinness and bring to a simmer. Cover and bake for 1 hour.
Finish the dish with the thyme, salt, pepper, and butter and serve as a stew with Irish soda bread.