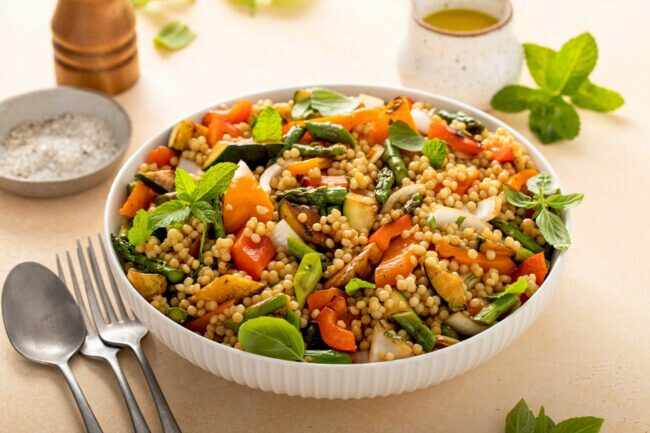 3 tablespoons olive oil, divided
2 cups Israeli couscous
1 1/2 cups vegetable broth or chicken broth (you can also use water)
1 red bell pepper, cored and quartered
1 orange bell pepper, cored and quartered
1 zucchini or yellow squash, sliced lengthwise into planks
1 small onion, cut in half
1 bunch (1-pound) asparagus, trimmed
2 teaspoons balsamic vinegar
Salt and pepper to taste
1 tablespoon fresh mint, chopped
1 tablespoon fresh basil, chopped
For the Lemon Vinaigrette
1/4 cup freshly squeezed lemon juice (about 2 lemons)
1/2 cup olive oil
1 teaspoon Dijon mustard
1/2 teaspoon sea salt
1/4 teaspoon black pepper
To Make the Vinaigrette:
In a small bowl or lidded jar, whisk together the lemon juice, olive oil, Dijon mustard, salt and pepper. Reserve until needed.
To Make the Couscous Salad:
Heat 1 tablespoon of olive oil in a medium saucepan over medium heat. Add the Israeli couscous and toast stirring frequently until lightly golden brown. Add 1 1/2 cups of broth and bring to a boil. Reduce the heat to low, cover and simmer for about 10 minutes or until all the liquid is absorbed. Uncover and fluff the couscous with a fork.
Place all the vegetables in a container (I use a sheet pan). Drizzle the veggies with the remaining olive oil and the balsamic vinegar. Season with salt and pepper to taste and mix until all the vegetables are coated. Set aside while heating the grill.
Heat a grill or grill pan to medium-high heat.
Working in batches, grill the vegetables until tender and lightly charred. The bell peppers and onions take about 8-10 minutes. The zucchini and yellow squash take about 7 minutes. The asparagus takes about 4-5 minutes.
Remove the vegetables from the grill and when cool enough to handle, cut them into 1-inch pieces.
In a medium bowl, mix the grilled vegetables with the Israeli couscous. Toss with the vinaigrette. Add the fresh mint and basil and toss to combine. Season with salt and pepper to taste.