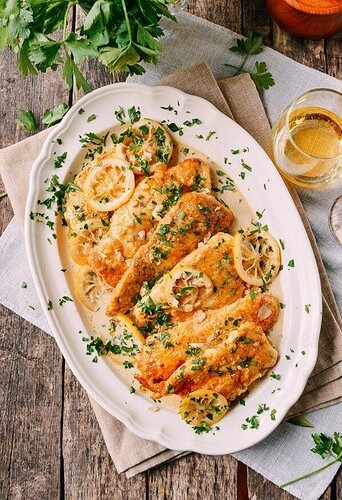 1 pound boneless skinless chicken breasts
1 large egg, beaten
3/4 cup dry bread crumbs
3 tablespoons grated Parmesan cheese
1 teaspoon dried parsley flakes
1/2 teaspoon garlic powder
1/2 teaspoon salt
1/2 teaspoon pepper
1/4 cup olive oil
lemon sauce:
1 cup water
1/3 cup lemon juice
2 chicken bouillon cubes
Lemon slices
Pound chicken breasts with a meat mallet to 1/4-in. thickness; slice into cutlets 1-1/2 in. wide. Place beaten egg in a shallow bowl; in a separate shallow bowl, combine the next 6 ingredients. Dip chicken in egg, then in crumb mixture, patting to help coating adhere.
In a large skillet, heat 2 tablespoons oil over medium heat. Brown chicken in batches, adding oil as needed, until golden brown, 2-3 minutes per side. Remove; drain on paper towels.
For lemon sauce, add water, lemon juice and bouillon to skillet, stirring to loosen browned bits from pan. Bring to a boil over medium-high heat. Reduce heat; simmer, uncovered, until liquid is reduced by half, 8-10 minutes. Return chicken to pan; toss to coat. Cook until heated through, 4-6 minutes. Serve with lemon slices.