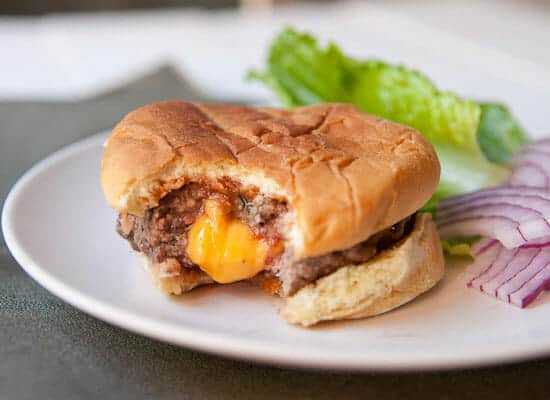 1 1/2 pounds ground chuck
1 teaspoon salt
3/4 teaspoon ground black pepper
4 slices cheese (American, Cheddar, or pepper Jack)
4 hamburger buns
1 tablespoon butter
1/2 cup chopped onions
2 teaspoons vegetable oil
4 teaspoons prepared mustard
12 dill pickle slices
4 teaspoons mayonnaise
Place the ground chuck in a medium0sized bowl and mix in the salt and the pepper. Form into eight patties, 1/4 inch thick. For each burger, cut a slice of cheeses into quarters and arrange them to fin on a meat patty. Top with another meat pepper and press the edges together so that no cheese will leak out while the burger is cooking.
Heat your grill to about 375 degrees. You can also use a skillet on medium heat. Place the patties on the grill and cook until the meat has browned on the bottom side, do not press the patties. But leave them undisturbed while they cook. Flip and cook the other side for 3 to 4 minutes.
While the burgers are cooking, butter the hamburger buns and toast them on the grill, buttered side down, until golden brown. Saute the onions in the vegetable oil until they are golden brown on the grill or in the skill over medium heat, frequently stirring, so they do not burn.
To assemble each burger, build up from the bottom, spread one teaspoon of mustard on the bottom bun, place three pickles over the bun, add the grilled hamburger patty and top with grilled onions. Spread mayonnaise on the top bread before putting it on top of the burger patty.