Udon with Grapefruit Ponzu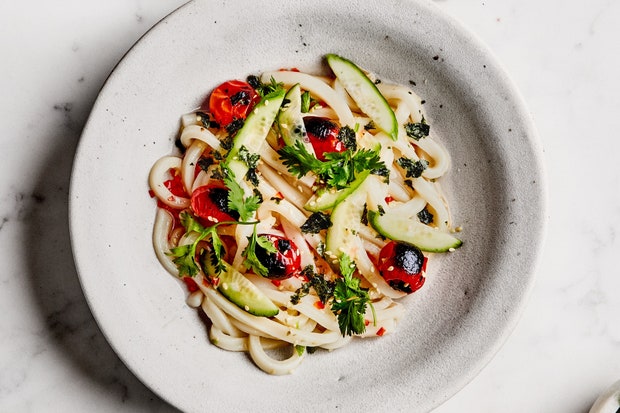 1 grapefruit, halved
1 lemon, halved
1 red chile (such as Fresno), seeds removed, finely chopped
1 (2") piece ginger, peeled, finely grated
1/3 cup unseasoned rice vinegar
3 Tbsp. soy sauce
1 tsp. sugar
2 pints cherry tomatoes
1 garlic clove, finely grated
1 Tbsp. extra-virgin olive oil
A pinch of kosher salt
18 oz. frozen udon noodles
2 medium Persian cucumbers, peeled, very thinly sliced on a diagonal
Cilantro sprigs, crumbled nori, and toasted sesame seeds (for serving)
Heat broiler. Squeeze grapefruit and lemon halves into a fine-mesh sieve set over a large bowl; discard pulp (you should have a little more than 1/2 cup juice). Mix in chile, ginger, vinegar, soy sauce, and sugar. Cover ponzu and chill.
Toss tomatoes, garlic, oil, and salt on a rimmed baking sheet. Broil until tomatoes are soft and lightly charred, 10–12 minutes. Let cool.
Cook noodles according to package directions; drain and rinse under cold water to stop the cooking. Transfer noodles to bowl with ponzu and toss to coat. Divide noodles and ponzu among bowls and top with charred tomatoes, cucumbers, cilantro, nori, and sesame seeds.