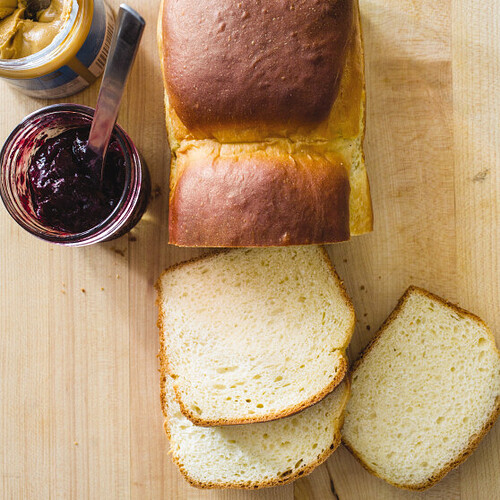 2 cups (11 ounces) plus 3 tablespoons bread flour
½ cup (4 ounces) water
½ cup (4 ounces) cold whole milk
1 large egg
1½ teaspoons instant or rapid-rise yeast
2 tablespoons sugar
1½ teaspoons salt
3 tablespoons unsalted butter, softened, plus 1 tablespoon melted
Whisk 3 tablespoons flour and water in small bowl until no lumps remain. Microwave, whisking every 20 seconds, until mixture thickens to stiff, smooth, pudding-like consistency that forms mound when dropped from end of whisk into bowl, 40 to 80 seconds.

Whisk milk, egg, and flour paste in bowl of stand mixer until smooth. Add yeast and remaining 2 cups flour. Using dough hook on low speed, mix until cohesive dough starts to form and no dry flour remains, about 2 minutes, scraping down bowl as needed. Cover bowl tightly with plastic wrap and let dough rest for 15 minutes.

Add sugar and salt to dough and mix on low speed, about 5 minutes. With mixer running, add softened butter, 1 tablespoon at a time, and mix until butter is fully incorporated, about 2 minutes. Increase speed to medium-low and knead until dough is smooth and elastic and clears sides of bowl but sticks to bottom, about 5 minutes.

Transfer dough to lightly floured counter and knead by hand to form smooth, round ball, about 30 seconds. Place dough seam side down in lightly greased large bowl or container, cover tightly with plastic, and let rise until doubled in size, 1 to 1½ hours.

Grease 8½ by 4½-inch loaf pan. Press down on dough to deflate. Turn dough out onto lightly floured counter (side of dough that was against bowl should now be facing up). Gently press and roll into 24 by 4-inch rectangle, with short side parallel to counter edge. Using pizza cutter or chef's knife, cut rectangle lengthwise into 2 equal strips.

Roll 1 strip of dough into snug cylinder, pinch seam closed, and place seam side down in prepared pan, with spiral against long side of pan. Repeat with remaining strip of dough, placing it adjacent to other in pan.

Cover loosely with greased plastic and let rise until loaf is level with lip of pan and dough springs back minimally when poked gently with your knuckle, 30 minutes to 1 hour.

Adjust oven rack to lowest position and heat oven to 375 degrees. Bake until deep golden brown and loaf registers 205 to 210 degrees, 30 to 35 minutes, rotating pan halfway through baking. Let loaf cool in pan for 15 minutes. Remove loaf from pan and transfer to wire rack. Brush top and sides with melted butter. Let cool completely, about 3 hours, before serving.
Makes: 1 loaf
Resting time: 15 minutes
Rising time: 1½ to 2½ hours
Baking time: 30 minutes
Total time: 3½ to 4½, plus 3 hours cooling time