Today's 5 star secret recipe comes from Joan's on Third in Los Angeles. This family owned establishment features a gourmet marketplace and a delightful cafe. Joan's is a favorite spot for lunch or an early dinner.
At Joan's marketplace they sell an insanely addictive chili aoli. This aoli tastes great on crackers, sandwiches, or on some freshly toasted baguette bread.
You can make your own baguette by following this recipe on our forum:
Enjoy!
=-=-=-=-=-=-=-=-=-=-=-=-=-=-=-=-=-=-=-=-=-=
Enjoy Your Best Health Ever! PLUS…
Get Incredible Mental Focus and Potentially
Add Years to Your Life! with The AIP Diet
=-=-=-=-=-=-=-=-=-=-=-=-=-=-=-=-=-=-=-=-=-=
=-=-=-=-=-=-=-=-=-=-=
New Secret Recipe
=-=-=-=-=-=-=-=-=-=-=
Joan's on Third's Chili Aoli
Like this recipe? Get our Restaurant Secret Recipes Cookbook – Here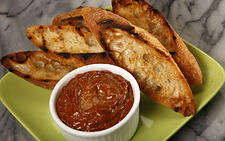 2 cups mayonnaise
3 cloves garlic, peeled and minced
1/4 cup plus 3 tablespoons canola oil blend
1 teaspoon ground cumin
1 1/2 teaspoons lemon juice
3 tablespoons dark chili powder
1 tablespoon plus ½ teaspoon paprika
Salt and pepper
In a small bowl, whisk together all ingredients until smooth. Taste and season as desired with salt and pepper.
Makes 2 cups.
Source: L.A. Times
Get more secret restaurant recipes on our Secret Recipe Forum: Go Here
Until Next Time… Be Well!
Kind Regards,
RSN