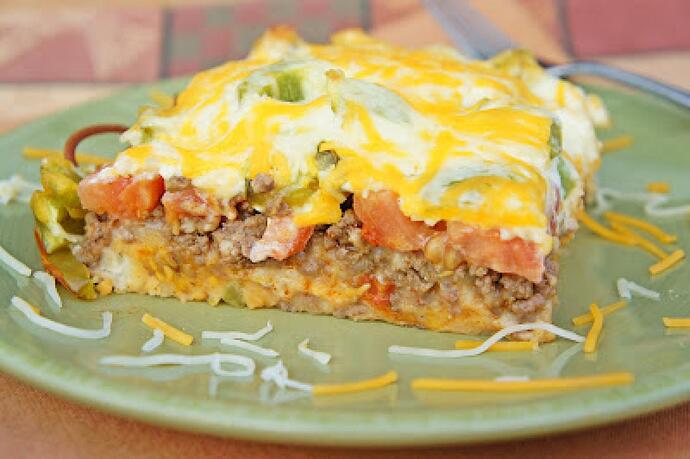 2 pounds ground beef, cooked and drained
1 (1.25-ounce) packet taco seasoning
4 ounces sour cream
4 ounces mayonnaise
8 ounces Cheddar cheese, shredded and divided
1 onion, chopped
2 cups Bisquick
1/2 cup water
2 tomatoes, sliced
1 green bell pepper, chopped
1 (4-ounce) can sliced jalapeno peppers (if you don't won't heat get the tamed ones)
Preheat oven to 325 degrees F. Brown ground beef and add taco seasoning and water, according to packet instructions; set aside.
In a separate bowl, combine sour cream, mayonnaise, 4 ounces of Cheddar cheese, and half of the onions; set aside.
Stir Bisquick and water together to form soft dough. Pat dough on the bottom and one-half-inch up the sides of an 9 x 13 inch greased casserole dish.
Saute remaining onions and bell peppers until slightly tender.
On top of biscuit mix, evenly distribute ingredients in the following order: ground beef, tomato slices, green peppers, onions, jalapeno peppers, sour cream mixture and end with remaining shredded cheese.
Bake for 30 to 40 minutes or until edges of dough are lightly browned.