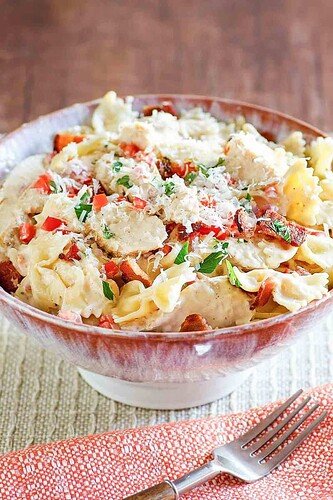 1 ounce melted butter
1 teaspoon garlic chopped
1/8 cup diced red onion
1/4 cup diced cooked bacon
1/4 cup diced Roma tomatoes
1 cup sliced, cooked chicken
1 ounce heavy (whipping) cream
1 jar Ragu Alfredo sauce (I got the Cheesy kind)
1/8 cup Asiago cheese
1/2 teaspoon salt
1/2 teaspoon pepper
1/2 teaspoon garlic salt
10 ounces pre-cooked Bowtie pasta
In a heated sauté pan, combine butter, garlic, onions, bacon, tomatoes, chicken, and spice mixture.
When onions begin to turn translucent, add heavy cream and Asiago cheese.
Once cheese and cream have reduced by half, add Alfredo sauce and bowtie pasta. Toss until well combined and remove from the heat.
Allow the pasta to cool for a few minutes so the cheese and sauce can thicken.