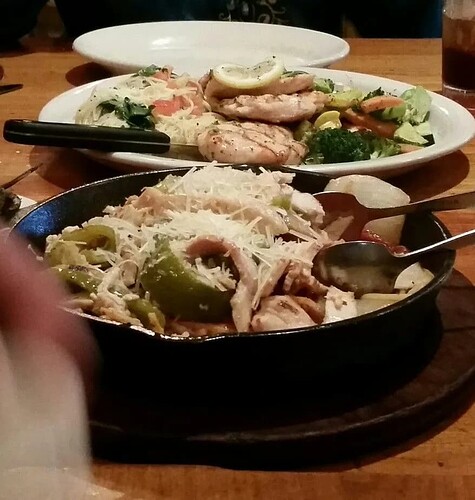 =-=-=-=-=-=-=-=-=-=-=-=-=-=-=-=-=-=-=
Lose Weight With This Water Hack
=-=-=-=-=-=-=-=-=-=-=-=-=-=-=-=-=-=-=
Margarine
Garlic
Skilletini mix
Chicken
Roma Tomatoes
Red Pepper
Spices
Heavy Cream
Marinara Sauce
Tomato Sauce
Pasta, Penne
Parsley
.
In a hot sauce pan add margarine, garlic, skilletini mix, chicken, roma
tomatoes, red pepper and saut?pice. Saut?ntil heated. Add heavy cream,
marinara sauce and tomato sauce to saut?an. Heat pasta in boiling water,
drain well. Toss pasta in saut?an until thoroughly heated and all
ingredients are thoroughly combined. Place in a hot service bowl. Garnish
with chopped parsleys.
Chicken Skilletini: A sizzling skillet of grilled seasoned chicken breast,
peppers, onions, cracked black pepper, tomatoes and spaghetti with pomodori
sauce.
Tomato Sauce (Salsa di Pomodori):
2 Tablespoons olive oil
1/2 cup finely chopped onions
2 cups Italian plum or whole pack tomatoes, coarsely chopped but not drained
3 Tablespoons tomato paste
1 Tablespoon finely cut fresh basil or 1 teaspoon dried basil
1 teaspoon sugar
1/2 teaspoon salt
Freshly ground black pepper
In 2- to 3- quart enameled or stainless steel saucepan, heat olive oil 'till
light haze forms over it. Add onions; cook over mod. heat 7-8 minutes, or
until soft, but not brown. Add the tomatoes, paste, basil, sugar, salt and a
little pepper. Reduce heat to low; simmer partly covered, about 40 minutes.
Stir every once in a while. Press sauce through fine sieve or food mill into
bowl or pan. Taste for seasoning. Serve hot.
Makes 1 1/2 cups.
Notes: This is really good; but it's just a base. For spaghetti, I add
whatever veggies I have available (mushrooms, more onion, tomato chunks,
zucchini, carrots, garlic, even tofu chunks if I'm not in the mood for meat)
and maybe some kind of meat or another, depending on what I've got. We
particularly like sausage in it. This is also the sauce I use when I make
manicotti and canneloni. I usually double or triple the recipe when I make
it because it doesn't make much. It freezes well.
=-=-=-=-=-=-=-=-=-=-=-=-=-=-=-=-=-=-=-=-=-=-=-=-=-=
Your OMAD should be a Vegan Protein Smoothie
=-=-=-=-=-=-=-=-=-=-=-=-=-=-=-=-=-=-=-=-=-=-=-=-=-=