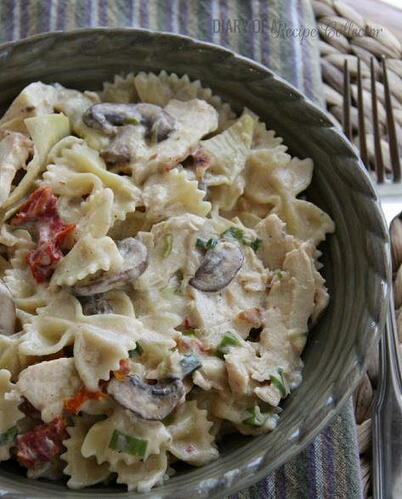 3 chicken breasts
12 oz. bowtie pasta
2 tbsp melted butter
1 tbsp olive oil
½ cup sliced mushrooms
¼ cup of sliced green onions
1 14 oz. can drained artichoke hearts
¼ cup sundried tomatoes (I used smoked)
1 tbsp flour
1 pint half and half
salt and pepper or creole seasoning to taste
½ cup shredded/grated Parmesan
1 pinch crushed red pepper flakes
Using an indoor grill pan or outdoor grill, grill chicken breasts about 6-8 minutes per side or until they have reached an internal temperature of 165 degrees. Set aside to rest a few minutes. Slice chicken very thinly.
Boil bowtie pasta according to package instructions.
While pasta is boiling, melt butter and olive oil over medium heat. Saute mushrooms, green onions, artichokes, and sundried tomatoes. Add salt and pepper or creole seasoning. Saute for about 2-3 minutes. Add thinly sliced chicken. Saute 2 -3 more minutes. Add flour and stir for about a minute. Add half and half and Parmesan. Stir and bring to a simmer for about 5 minutes. Add cooked pasta and stir to combine.