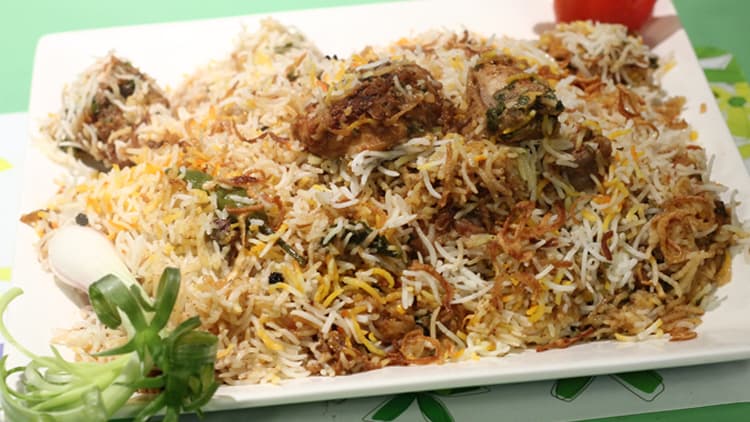 Ingredients:
1 kg chicken
1 kg basmati rice
2 cups yogurt
2 cups water
2 onions, sliced
3-4 cloves of garlic, minced
1 inch piece of ginger, grated
2-3 green chilies, chopped
1 tsp cumin seeds
1 tsp coriander seeds
1 tsp fennel seeds
1 tsp black pepper
1 tsp cloves
1 cinnamon stick
2-3 bay leaves
1/2 tsp turmeric powder
Salt to taste
1/2 cup oil
Few drops of kewra water
Chopped coriander leaves for garnishing
Instructions:
Wash the rice and soak it in water for 30 minutes.

In a pot, heat oil and add sliced onions. Fry until they turn golden brown.

Add garlic, ginger, green chilies, cumin seeds, coriander seeds, fennel seeds, black pepper, cloves, cinnamon stick, bay leaves, turmeric powder, and salt. Fry for 1-2 minutes.

Add chicken and fry on high heat for 5 minutes until it turns white.

Add 2 cups of water and bring to a boil. Cover the pot and let it cook on low heat for 20-25 minutes until the chicken is tender and cooked through.

Remove the chicken from the pot and strain the yakhni (stock). Set aside both the chicken and the yakhni.

In a separate pot, boil water and add soaked rice. Cook for 5-7 minutes until the rice is parboiled. Drain and set aside.

In a large pot, layer half of the parboiled rice, followed by the cooked chicken, and then the remaining rice on top.

Pour the yakhni on top of the rice. Add a few drops of kewra water for flavor.

Cover the pot with a tight-fitting lid and let it cook on low heat for 15-20 minutes until the rice is fully cooked and fluffy.

Garnish with chopped coriander leaves and serve hot with raita and salad.
Enjoy your delicious Kachi Yakhni Ki Chicken Biryani!