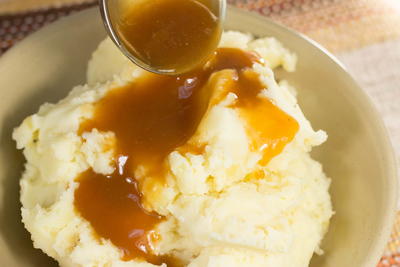 2 cups low sodium beef broth
1/4 teaspoon Kitchen Bouquet or Worcestershire sauce (see note)
1/2 teaspoon onion powder
1/2 teaspoon paprika
2 tablespoons water
2 tablespoons cornstarch
salt and pepper to taste
Place broth, butter, Kitchen Bouquet, onion powder and paprika into a 2 quart saucepan and bring to a boil for 2 minutes. Lower heat to a simmer.
In a small bowl, stir together the water and cornstarch to form and very smooth paste, called a slurry. Dip about 2 tablespoons of the hot broth into the slurry and stir until pourable and smooth, then stir the slurry into the simmering broth. Continue to cook and stir until the mixture is of the consistency you like, about 3 more minutes. (The gravy will thicken slightly more off the heat). Taste and add salt and pepper as desired.
Notes
Kitchen Bouquet or Worcestershire sauce is added for color and deeper flavor, and can be omitted if desired.
This recipe is appropriate for a chicken or vegetable gravy as well; simply substitute a good quality low-sodium chicken or vegetable broth for the beef.
Makes: 2 cups of gravy