I have been making ribs this way for years and they always get rave reviews…I cook Pork and beef ribs this way and it all comes out delicious.
Kimmy's All American BBQ Ribs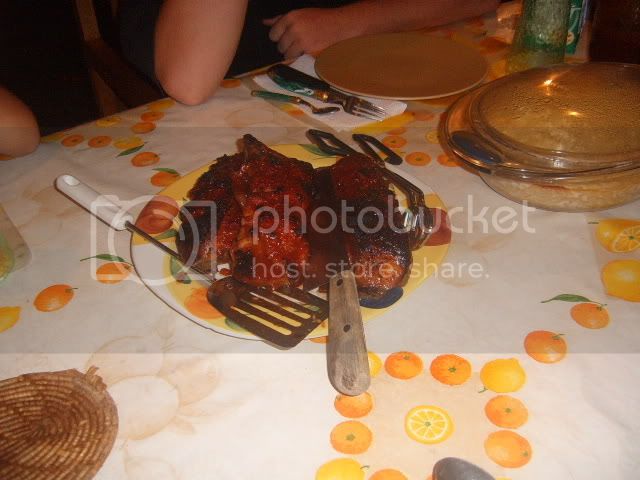 2 slabs of the best pork ribs you can buy
1 six-pack of your favorite beer
2 heads of garlic
Salt and Pepper to taste
Your favorite BBQ sauce to finish
Pre-heat your oven to 350 degrees. Place your ribs in a large roasting pan. Add Salt and pepper.
Clean and prepare your garlic cloves and add all 2 heads to roasting pan with your ribs. Now pour your beer right over the top. I usually need to use 2 or 4 bottles, it just depends on the size of your roasting pan. Cover with Foil and roast in your oven for about 2 1/2 hours.
While your ribs are roasting prepare your Grill for the BBQ. Have your favorite sauce ready. When the ribs have cooked remove them from the oven and onto the grill. Grill for about 25 minutes basting with your BBQ sauce. These are the best ribs we have ever had, hands down…enjoy!!
Kimmy's favorite BBQ sauce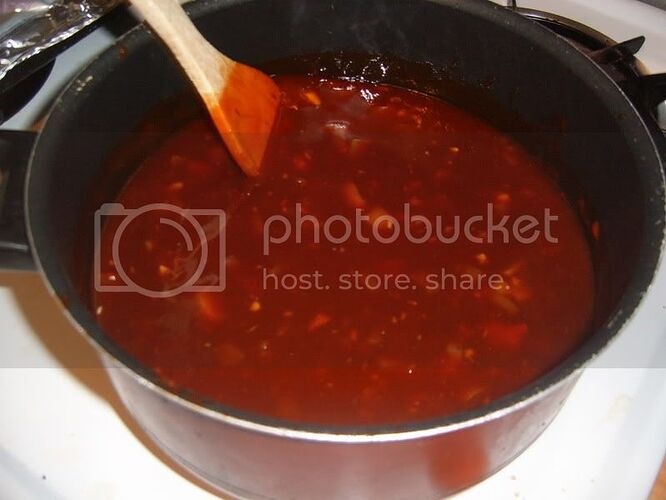 1 large yellow onion, coarse chopped
8 cloves garlic,minced
4 cups Heinz ketchup
2/3 cup Cider vinegar
1/2 cup worcestershire sauce
1 cup brown sugar, packed
1 1/2 cups Honey
1 teaspoon pepper
1 tablespoon salt
1/2 cup tomato paste
4 teaspoons Liquid Smoke
1/2 to 1 teaspoon pepper sauce, how hot do you like it?
1/2 cup Bourbon or whiskey, to taste
Combine your onion, garlic and bourbon in a 3 quart saucepan. saute until onion and garlic are translucent. Add your remaining ingredients, bring to a boil. Simmer uncovered until reduced and thickened, about 15 to 25 minutes. I place this in a large jar when cooled and store in the fridge.
Kimmy's Crazy Coleslaw
We love this dish with my ribs…Yummo!
1 head cabbage - shredded, (or 2 store bought bags)
1/2 head purple cabbage
2 carrots, peeled and shredded
1 small onion chopped fine or grated
1 1/2 cup (maybe more) MIRACLE WHIP SALAD DRESSING
1 large can crushed pineapple in its own juice (NO SUGAR ADDED)
2 Tablespoons sugar
2 Tablespoons cidar vinegar
Celery seed
salt and pepper to taste
NOTE: I usually EYEBALL everything…So use more or less according to your taste buds!!
Kimmy's BBQ Baked Beans
2 large cans Van de Camps Pork N Beans
3 Tablespoons Brown sugar
1 large Onion, chopped fine
1/2 cup Heinz ketchup
2 Tablespoons Yellow prepared mustard
2 Tablespoons worsteshire sauce
salt & pepper to taste
a couple of dash's of Tobasco sauce
1 whole Kielbasa or 1/2 lb. bacon
I start these with a couple of large cans of Van de Camps Pork n Beans
I add Brown sugar to taste, sweet but not too sweet, I chop my onion, a whole one.
I add Ketchup, mustard, worstershire sauce and just a little salt and pepper and some tobasco. I mix this well and taste. pour into a 13 x 9 inch pan, sprayed with Pam and add my kielbasa or bacon to the top.
I bake this is a 350 degree oven for about an hour or so…until it is thick and rich. DON'T OVER COOK, they will be dry, I know this from personal experience BTW, and if you undercook they will be runny.

And for Dessert!
Blueberry Pie
4 cups Fresh blueberries (up to 5)
1 cup Sugar
1/2 cup Sifted all-purpose flour
1/4 teaspoon Salt
1/4 teaspoon Nutmeg or cloves if you wish
1/2 teaspoon Ground cinnamon
3 tablespoon Butter or margarine
1 Double (10 inch) pie crust
Stem and wash berries thoroughly; drain well. Place in large bowl and sprinkle with next 5 ingredients; toss to mix. Roll out bottom crust and put in 10 inch deep dish pie pan. Spoon blueberry mixture into pan and dot with butter. Place top crust over blueberries. Trim if necessary. Brush top with about 1 Tbsp. milk and sprinkle with 1/2 tsp. sugar.
Make a few slits in top to vent.
Refrigerate about 10 minutes while preheating oven. Place pie pan on cookie sheet. Bake at 425 for 15 minutes; reduce heat to 350 and bake 30 minutes longer. Cool at least 1 hour before serving. Serves 10-12.