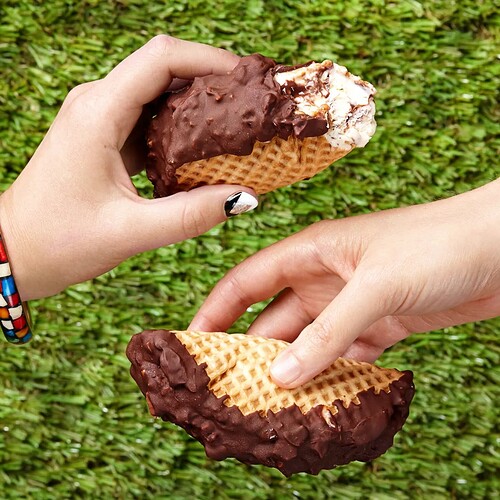 4 waffle bowls
2 tablespoons maple syrup
1 1/2 cups vanilla-fudge swirl ice cream (about 3/4 pint), slightly softened
3 ounces semisweet chocolate, finely chopped (about 2/3 cup)
1 tablespoon refined coconut oil
2 tablespoons peanuts, finely chopped
Brush insides of waffle bowls with maple syrup. Working one at a time, invert waffle bowl onto a microwave-safe plate and cover with a damp paper towel. Heat in microwave 30 seconds; waffle will soften and flatten. Immediately mold waffle into a hard taco shell shape with your hands. Let rest until set, about 2 minutes.
Carefully fill waffles with ice cream (about 6 Tbsp. per taco); smooth surface with the back of a spoon or offset spatula. Transfer to a plate or parchment-lined rimmed baking sheet and freeze until firm, at least 1 hour.
Combine chocolate and oil in a small, microwave-safe bowl. Heat in microwave in 30-second intervals until melted and smooth, stirring occasionally. Stir in peanuts.
Working one at a time, roll ice cream side of taco into melted chocolate to completely cover ice cream. Return tacos to plate and freeze again until chocolate is set, about 10 minutes.