Today I've selected some more quick and easy recipes from our forum that are sure to be a hit around the dinner table. First, I have a secret recipe for a Middle-Eastern version of meatballs with tomatoes called kofta.
This dish is only one of the many authentic Middle-Eastern recipes you can download as a member of our "Cookbook Club". These flavorful restaurant quality recipes are super easy and fast to prepare.
Enjoy!
=-=-=-=-=-=-=-=-=-=-=-=-=-=
Weight Loss Secrets
Learn how to Lose 9 lbs. Every 11 days
=-=-=-=-=-=-=-=-=-=-=-=-=-=
=-=-=-=-=-=-=-=-=-=-=-=-=-=-=-=-=-=
New Secret Recipe
=-=-=-=-=-=-=-=-=-=-=-=-=-=-=-=-=-=
Kofta "Meatballs with Tomatoes"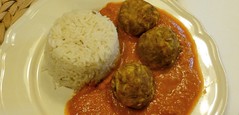 Ingredients:
½ kilo or 1 pound minced veal or lamb
2 minced (finely chopped) onions
1 bunch of fresh organic parsley
1 teaspoon of zatar or thyme
½ teaspoon of organic sea salt
2 large-sized organic tomatoes
Meat spices from your spice rack
Organic oil
Directions:
Mix all the ingredients together in a bowl.
Form meatballs. Shape and size may vary. You can make small spheres or long hotdog-like shapes.
Arrange these meatballs onto a greased baking tray.
Bake the meatballs in the oven until they are browned. Make sure the meat is cooked through and is not raw on the inside.
Remove the browned Kofta from the oven and place thick round slices of tomatoes over them. Place the tray back in the oven until the tomato slices are brown.
Best served with basmati rice.
Source – Love Mama Recipes
Enjoy these great tasting recipes from our forum:
Until Next Time Be well!
RSN