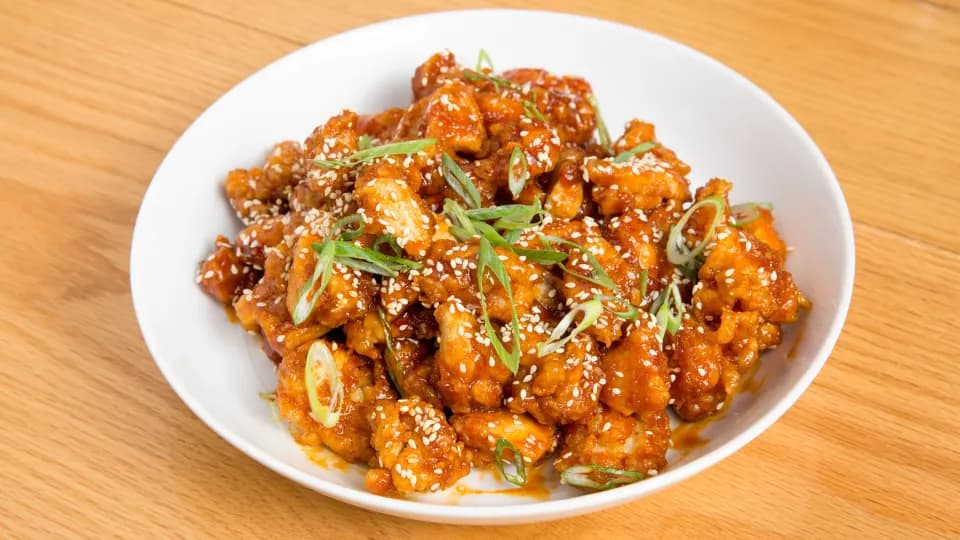 CHICKEN:
1 lb chicken, boneless, skinless thighs, cut into 1 inch pieces
2 tablespoons rice wine vinegar
1 cup cornstarch
1 teaspoon kosher salt
1⁄2 teaspoon black pepper
1⁄2 cup canola oil (for frying)
1 tablespoon sesame seeds, toasted
2 scallions, thinly sliced
SAUCE:
1 garlic clove, minced
1 teaspoon minced ginger
2 tablespoons gochujang (korean red chili paste)
1 tablespoon soy sauce
1 tablespoon rice wine vinegar
2 tablespoons light brown sugar
1 tablespoon honey
1 tablespoon toasted sesame oil
CHICKEN:
Preheat canola oil in a heavy bottomed pot to 350 degrees.
Combine chicken and rice wine vinegar in a large bowl. Allow to marinate for 15 minutes.
In a shallow baking dish or bowl whisk together cornstarch, salt and pepper. Working in batches dredge the marinated chicken in the cornstarch mixture. Fry chicken in batches for 4-5 minutes until lightly browned and fully cooked. Allow the oil to come up to temperature between frying. Remove to a paper towel lined plate. Season with salt.
SAUCE:
Combine all ingredients in a large saute pan over medium high heat. Allow the mixture to come to a boil then reduce heat to medium low until the sauce thickens, about 5 minutes. Add the cooked chicken to the sauce and toss to coat. Garnish with toasted sesame seeds and sliced scallions.