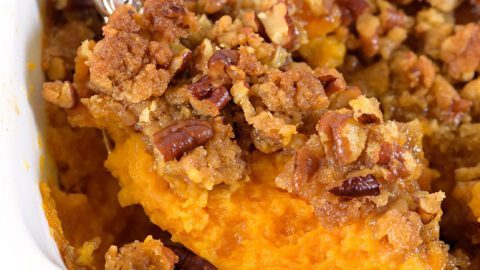 Filling:
4 cups mashed sweet potatoes
1 cup sugar
2 eggs
1/2 cup milk
1/2 tsp. salt
1/3 stick butter or margarine (melted)
1 tsp. vanilla
Topping:
1 cup brown sugar
1/2 cup flour
1/3 cup butter or margarine (melted)
1 cup pecans
Preheat oven to 350 degrees.
Mix together sweet potatoes, sugar, eggs, milk, salt, and ? cup of melted butter.
Butter the casserole dish with soften butter.
Pour the potato mixture into the 2-quart prepared baking dish.
Mix together all streusel topping ingredients and crumble the mixture evenly over the sweet potato mixture.
Bake uncovered at 350 degrees for 35 to 45 minutes.