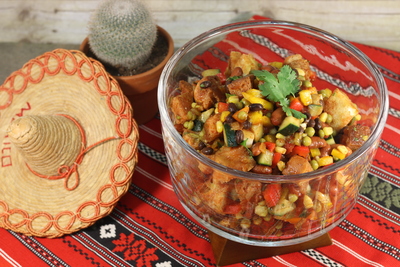 2 cups cubed baguette, in 1 inch pieces
1 tablespoon olive oil
1/2 teaspoon La Preferida Adobo seasoning
2 tablespoons La Preferida Chili Seasoning
salt and ground black pepper
1 (15-ounce) low-sodium Black Beans, drained and rinsed
1 (15-ounce) Green Peas, drained and rinsed
1 (15-ounce) Low Sodium Red Kidney Beans, drained and rinsed
1 1/2 cup frozen corn kernels, thawed
1/2 cup chopped green onions
1/2 cup chopped red, yellow and orange bell peppers
1/4 cup seeded and chopped cucumber
1 (4-ounce) can Diced Green Chilies
1 (16-ounce) jar Salsa (mild, medium or hot)
2 tablespoons lime juice
2 tablespoons chopped cilantro plus more for garnish
1 green tomatillo, finely chopped
Preheat oven to 400 degrees F.
Place bread cubes into a large bowl and toss with olive oil, Adobo seasoning and salt and pepper to taste.
Place on foil-lined baking sheet and bake for 15-20 minutes or until bread is toasted and crisp.
Cool.
In a large mixing bowl, combine black beans, green peas, kidney beans, corn, green onions, bell peppers, cucumber, and chiles.
Toss to mix.
In a medium bowl, combine salsa, lime juice, and chili seasoning and stir to mix. Pour over the salad and toss.
Add cilantro, tomatillo, and the toasted bread cubes. Mix gently.
Allow to sit for 20 minutes at room temperature, or, if not serving immediately, refrigerate salad until ready to serve.