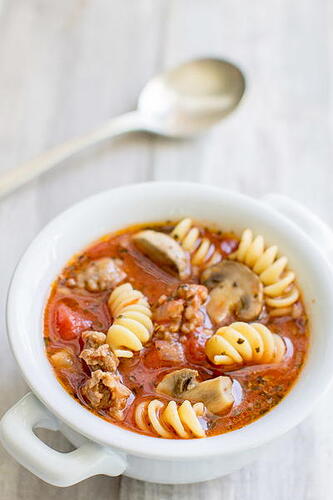 1 pound ground Italian sausage
1 large onion chopped (about 2 cups)
4 cloves garlic minced
2 (14.5 ounce) cans Italian-style diced tomatoes undrained
1 (15 ounce) can tomato sauce
8 ounces sliced mushrooms
1 teaspoon Italian seasoning
½ teaspoon dried basil
½ teaspoon fennel seeds
Salt and freshly ground black pepper
2 cups chicken broth or water
1 cup rotini pasta
2 cups mozzarella cheese
In a large skillet over medium-high heat, cook until the sausage has browned
breaking up any large pieces of sausage with a wooden spoon.
Remove the sausage and sauté the onion until softened, 5 to 7 minutes.
Stir in garlic until fragrant, about 30 seconds.
Meanwhile, add diced tomatoes and their juice, tomato sauce, mushrooms, onion, carrots,
Italian seasoning, basil, fennel, 1 teaspoon salt, and ½ teaspoon pepper to the slow cooker.
Stir in chicken broth and sausage.
Cover and heat on HIGH for 4 hours or LOW for 8 hours.
During the last 10 minutes of cooking time, stir in the pasta, cover, and continue to cook until softened.
Top with mozzarella and serve.