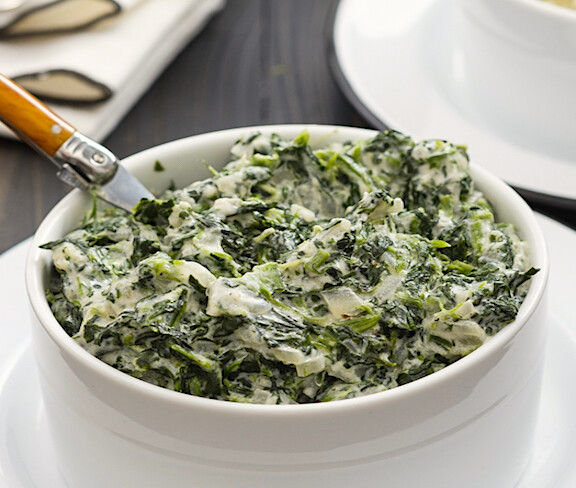 2 packages 20 ounce frozen chopped spinach
4 slices finely chopped bacon
1/4 cup minced onion
4 tablespoon all-purpose flour
2 teaspoon Lawry's seasoned salt
1 teaspoon black pepper
3 teaspoons minced garlic
2 cups warmed milk
Cook the spinach according to the package directions and drain well. Fry the bacon bits until crisp and set aside. Remove most of the bacon drippings from the pan.
Sauté the onion in the remaining pan drippings until very tender (about 10 minutes). Add the bacon to the onion mixture for the last couple of minutes of cooking.|
Remove the onion/bacon mixture from the heat and stir in the flour, salt, pepper, and garlic and blend thoroughly - it will be a thick paste roux.
Add the warmed milk all in one step. Return the mixture to medium heat and stir continuously until thickened and smooth.
Add the spinach and mix thoroughly. Keep the finished dish warm until ready to serve.