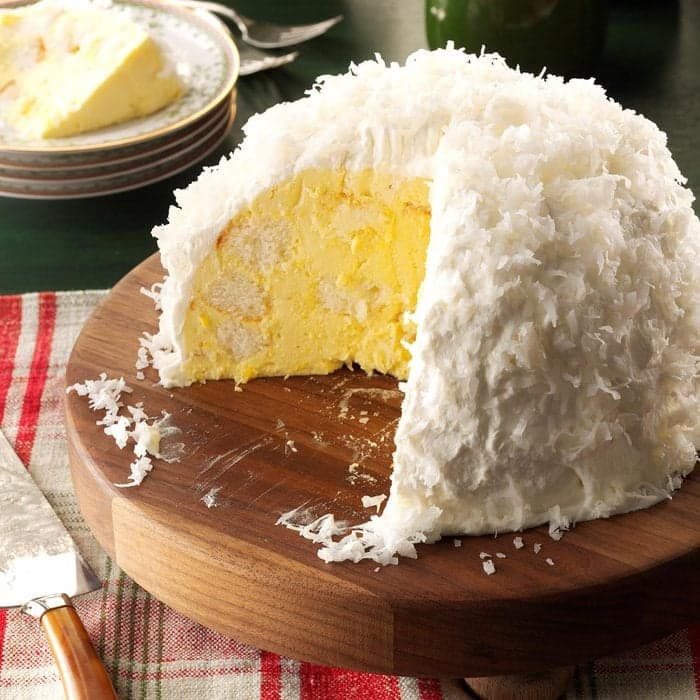 2 envelopes unflavored gelatin
1/4 cup cold water
1 cup boiling water
1 cup sugar
1 can (12 ounces) frozen orange juice concentrate, thawed
2 tablespoons grated lemon zest
2 tablespoons lemon juice
Dash salt
3 cups heavy whipping cream, divided
1 prepared angel food cake (8 to 10 ounces), cubed
1/4 cup confectioners' sugar
1/2 cup sweetened shredded coconut
Sprinkle gelatin over cold water. Let stand 5 minutes. Add boiling water; stir until gelatin is dissolved. Add next 5 ingredients; mix well. Refrigerate, stirring occasionally, until mixture begins to thicken, about 25 minutes.
In another bowl, beat 2 cups cream until stiff peaks form; fold into lemon mixture. Line a 12-cup bowl with plastic wrap. Layer with 1 cup each lemon filling and cake cubes. Repeat layers 5 times; top with remaining filling. Refrigerate, covered, 6 hours or up to 2 days.
To serve, invert bowl onto a large serving platter. Remove plastic wrap. Beat confectioners' sugar and remaining cream until stiff peaks form; spread over cake. Sprinkle with coconut.