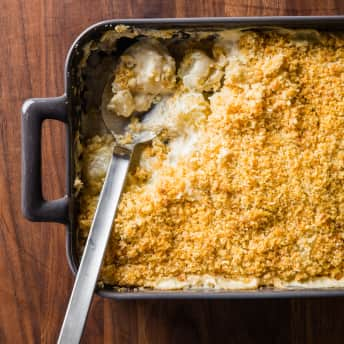 2 ounces Parmesan cheese, grated (1 cup)
1 cup panko bread crumbs
4 tablespoons unsalted butter, melted, plus 6 tablespoons cut into 6 pieces
Salt and pepper
2 ½ pounds russet potatoes, peeled and cut into 1-inch chunks
3 cups light cream
⅛ teaspoon baking soda
Adjust oven rack to middle position and heat oven to 375 degrees. Combine Parmesan, panko, melted butter, and 1/4 teaspoon salt in bowl; set aside.
Bring potatoes, 2 1/2 cups cream, baking soda, 2 teaspoons salt, and 1 teaspoon pepper to boil in large saucepan over medium-high heat. Reduce heat to low and cook at bare simmer, stirring often, until paring knife slides easily into potatoes without them crumbling, 20 to 25 minutes.
Off heat, stir remaining 1/2 cup cream and remaining 6 tablespoons butter into potato mixture until butter has melted, about 1 minute. Transfer potato mixture to 13 by 9-inch baking dish. Sprinkle Parmesan-panko mixture over top. Bake, uncovered, until bubbling around edges and surface is golden brown, 15 to 20 minutes. Let cool for at least 15 minutes.