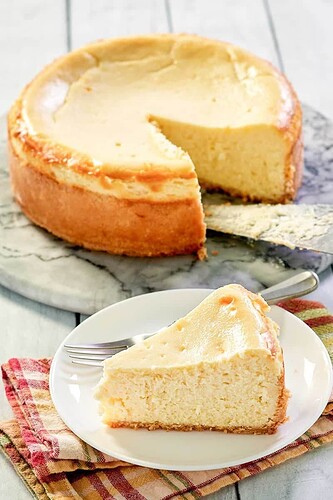 Crust
1 cup flour
1/4 cup granulated sugar
1 teaspoon lemon zest
1 egg yolk
1/4 cup melted butter
1/4 teaspoon vanilla extract
Combine flour, sugar and lemon zest, and make a well in the center. Add egg yolk, butter and vanilla extract. Work quickly to blend well, adding water if needed to make it stick together.
Wrap in wax paper and chill for 1 hour.
Roll out 1/8-inch thick and place over the greased bottom of a 9-inch springform pan. Trim.
Bake at 400 degrees F for 15 to 20 minutes. Cool. Butter the sides and place over base. Roll the remaining dough 1/8-inch thick and line sides of pan. Fill with filling.
Filling
40 ounces cream cheese
1 3/4 cups granulated sugar
3 tablespoons flour
1 1/2 teaspoons orange zest
2 teaspoons lemon zest
1/4 teaspoon vanilla extract
5 eggs
2 egg yolks
1/4 cup heavy cream
Gradually add sugar to cream cheese with electric mixer at medium speed.
Gradually beat in the flour. Continuing to beat, add the remaining
ingredients in order listed. Pour into baked shell. Bake at 450 degrees F
for 10 minutes. Reduce heat to 250 degrees F and continue baking for 1 more
hour. Remove to rack to cool for 2 hours.
Pineapple Glaze
2 tablespoons granulated sugar
4 teaspoons cornstarch
2 (8 1/4 ounce) cans crushed pineapple in heavy syrup, undrained
2 tablespoons lemon juice
2 drops yellow food color
In small saucepan, combine sugar and cornstarch. Stir in remaining
ingredients. Over medium heat, bring to boiling, stirring; boil 1 minute or
until thickened and translucent. Cool. Spread surface of cheesecake with
glaze; refrigerate until well chilled 3 hours or overnight. To serve, loosen
pastry from side of pan with spatula. Remove side of springform pan.
Garnish with sliced strawberries, if desired. Cut into wedges.