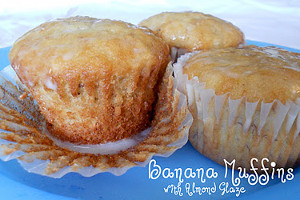 1/2 cup margarine or butter
1 cup sugar
2 eggs
1 cup mashed bananas (3-4 bananas)
1/4 cup milk
1 tsp lemon juice
2 cups flour
1 1/2 tsp baking powder
1/2 tsp baking soda
1/4 tsp salt
1/2 cup chopped nuts optional- I like walnuts the best
Cream margarine (or butter) and sugar. Add eggs and beat. Add bananas, milk, and lemon juice.
Sift dry ingredients and add. Stir in nuts (if using them).
Bake in greased muffin tins (or use baking cups) at 350 degrees for about 20-22 minutes.
Glaze with mixture of milk and powdered sugar. I don't ever measure it, I just keep adding one ingredient
or the other until I get the consistency I want and 1/2 tsp almond flavoring. Glaze muffins/bread while still hot.
12 muffins
Note If you prefer You can make a loaf.
Bake in well-greased bread loaf pan for 1 hour at 350 degrees F. Makes 1 loaf.