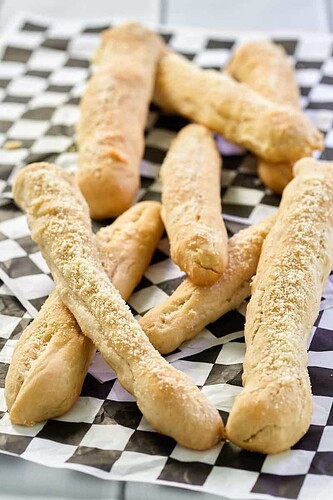 1/2 cup warm water ~100° to 110°F
2 1/2 teaspoons instant yeast 1 package
1 1/4 cups water
2 tablespoons olive oil
4 cups (22 ounces) bread flour plus more for working the dough
1 1/2 teaspoons salt
3 tablespoons butter melted
1/2 teaspoon garlic salt
3 tablespoons grated Parmesan cheese
Place 1/2 cup of warm water and yeast in a medium bowl and whisk together briefly. Allow the yeast enough time to bubble up and become active. This should take a few minutes. If the yeast is inactive, you may need to replace the yeast and try again.
Add room temperature water and oil to the yeast mixture, and stir to combine.
Place the flour and salt in a food processor, and pulse to combine.
Add the yeast mixture through the tube of the food processor and process. The dough will form into a ball. Process until the dough is smooth and elastic.
Place the dough in a bowl that has been sprayed with non-stick spray, and cover with plastic wrap. Let the dough rise until doubled in size, up to 2 hours.
Preheat the oven to 375°F.
Gently pat out the dough on a floured surface into a rectangular shape.
Cut the dough into two equal portions down the middle. Then make about 8 cuts horizontally across the dough.
Roll each portion of dough into a breadstick.
Spray a baking sheet with non-stick spray and place the dough strips onto the baking sheet.
Bake for about 18 minutes or until the breadsticks become golden.
Mix the melted butter and the garlic salt.
Brush the garlic sauce over the breadsticks and sprinkle Parmesan cheese on top.