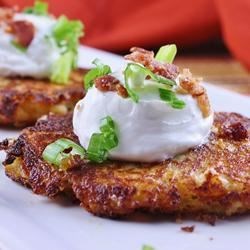 3 slices bacon
2 Tbs butter
1 small onion, chopped
1 stalk celery, chopped
1/4 tsp minced garlic
1 1/4 cups mashed potatoes
1 cup shredded American cheese
3/4 cup all-purpose flour
1 egg, slightly beaten
1/4 tsp prepared yellow mustard
1/8 tsp ground black pepper
1 dash hot sauce
1 Tbs vegetable oil
2 Tbs sour cream
Place bacon in a large skillet and cook over medium-high heat, turning occasionally, until evenly browned,
about 10 minutes.
Drain the bacon slices on paper towels, reserving bacon grease in skillet; crumble bacon.
Melt butter in bacon grease over medium heat; cook and stir onion, celery, and garlic until tender and lightly browned, about 15 minutes. Transfer vegetables and bacon to large bowl; stir in mashed potatoes,
American cheese, flour, egg, mustard, black pepper, and hot sauce.
Heat vegetable oil in a clean skillet over medium heat.
Drop spoonfuls of mashed potato mixture, flattening slightly, and fry patties until golden brown on both sides, 5 to 7 minutes.
Serve with sour cream.