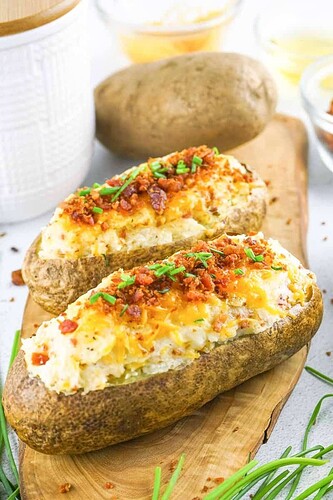 4 russet potatoes 6 to 8 ounces
vegetable oil
2 tablespoons melted butter
1/3 cup sour cream
1/2 teaspoon salt
1/4 teaspoon fresh cracked black pepper
1/2 cup shredded cheddar cheese divided use
1/4 cup sliced scallions or chives
1/3 cup chopped cooked bacon
Preheat oven to 350°F.
Wash potatoes and dry them.
Rub a little vegetable oil on the potatoes and place them on a baking sheet.
Bake the potatoes for 45 to 60 minutes or until the potatoes are done. Cooking time varies on the size of potato. Potatoes are done with a fork goes in easily.
Cut the top third off the potato.
Use a spoon to scoop out the flesh of the potatoes. Be sure to leave about 1/4 to 3/8 of an inch around the edge of the potato.
Place the potato tops and the scooped out potato flesh into a large bowl.
Add warmed butter, sour cream, salt, and pepper to the bowl. Blend until the potato mixture is smooth.
Add half of the cheese, half of the scallions, and half of the cooked bacon. Stir them into the potato mixture.
Fill the hollowed out potatoes generously with the potato filling.
Top the filled potatoes with cheese.
Turn the oven onto broil. Broil the potatoes until the cheese turns golden brown.
Top the twice baked potatoes with the remaining bacon and scallions.