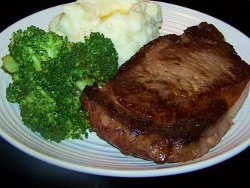 3 boneless ribeye steaks (14-15 oz each)
2 tablespoons olive oil
4 medium potatoes, peeled and cut into 1 inch pieces
1/2 cup milk (you might not need it all)
5 tablespoons butter
4 cups fresh broccoli florets
salt and pepper to taste
To make the mashed potatoes, put the potatoes into a pot of salted water over a medium high heat and bring it to a boil. Reduce the heat and simmer for 15-20 minutes or until the potatoes are fork tender.
Drain the potatoes. Add 3 tablespoons of butter, salt and pepper then mash the potatoes adding enough milk to reach the desired consistency. Cover the pot to keep them warm until everything else is done.
For the steak, place a cast iron skillet over a medium high heat to get it hot before adding the meat.
Season the steak liberally with salt and pepper then once the pan is very hot add a tablespoon of oil to the pan then add the steak. Sear it for 5 minutes on the first side and 4 minutes on the second side for medium rare result.
To prepare the broccoli place it into a skillet with about a half inch of water and some salt and pepper to taste. Bring it to a boil then covered it and let it steam for 5 minutes before adding 2 tablespoons of butter then serve it with the rest of the meal.