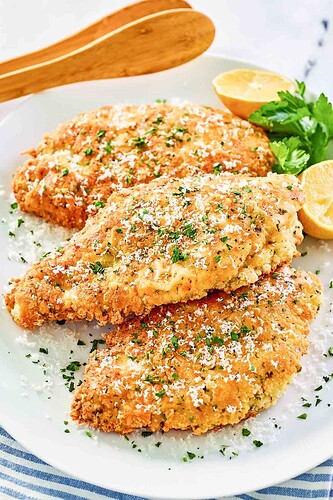 3 cups flour divided use
5/6 cup grated Parmesan cheese divided use
1 pound shredded mozzarella cheese
1/4 cup dried parsley flakes
1 package (0.7 ounces) dry Italian salad dressing mix
1 cup milk
2 extra-large eggs
4 pounds boneless skinless chicken breasts
2 tablespoons vegetable oil
1 tablespoon chopped fresh parsley to garnish
In a medium bowl, combine 2 cups of flour and 1/3 cup of Parmesan with the mozzarella, parsley flakes, and dressing mix. Mix well.
Create a breading station by whisking the milk and eggs in a small bowl until well blended and placing the remaining 1 cup of flour in another shallow bowl.
Coat the chicken with flour and shake off the excess. Then dip the chicken into the milk mixture followed by the cheese mixture, coating evenly and pressing the mixture into the chicken.
Heat about 1/8 inch of oil in large skillet over medium heat. Add the chicken and cook for 5 to 6 minutes on each side, or until cooked through. Garnish with Parmesan and parsley.