Sometimes there is nothing better than a grilled cheese sandwich. Today's Secret Recipe takes this all-time classic sandwich to the next level. At Lucques in Los Angeles, award winning chef Suzanne Goin has created a fine dining menu that is recognized as one of the country's best.
Lucques' grilled cheese is made with caramelized shallots and Cantal cheese which is a mild semi-firm cheese with a fantastic creamy consistency when melted.
For the perfect combination, I like to serve a bowl of rich tomato soup along side this gourmet grilled cheese. Check out this recipe on our forum for Olive Garden's creamy tomato-basil soup.
=-=-=-=-=-=-=-=-=-=-=-=-=-=-=-=-=-=-=-=-=-=
The Alpine Secret For Healthy Weight Loss.
=-=-=-=-=-=-=-=-=-=-=-=-=-=-=-=-=-=-=-=-=-=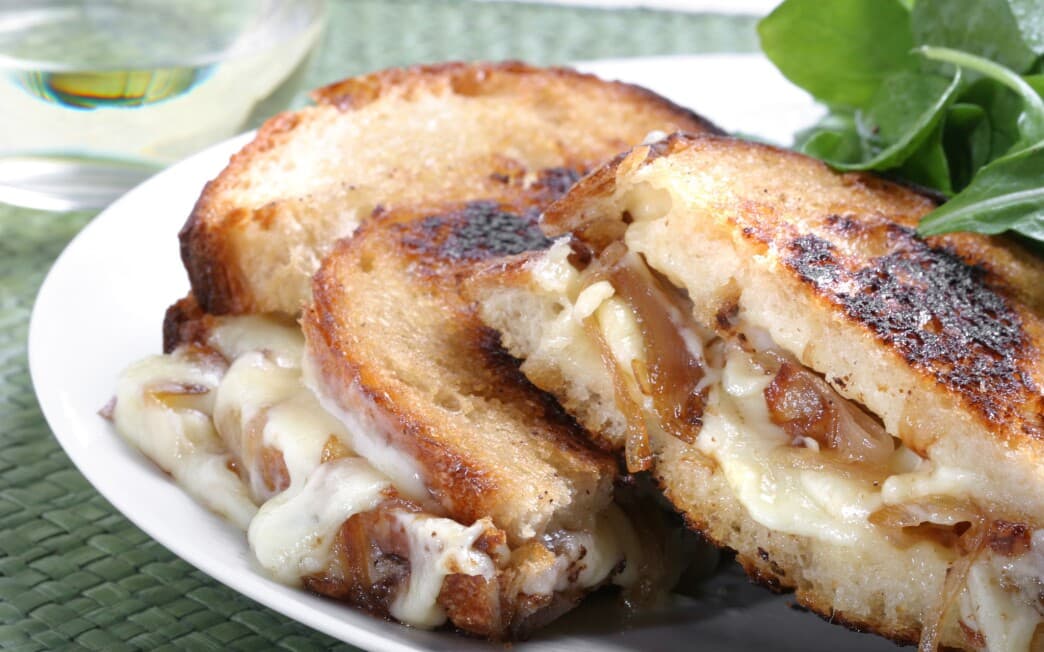 Ingredients:
2 large shallots
3 tablespoons unsalted butter, divided
1/2 teaspoon thyme leaves
Salt, pepper
2 slices country white bread, sliced 1/2 -inch thick
5 ounces Cantal cheese, sliced 1/8-inch thick
Instructions:
Preheat the oven to 400 degrees F.

Cut the shallots in half lengthwise and peel them. Place the shallots cut-side down. Slice lengthwise into about one-eighth-inch wedges. In a small sauté pan, melt 1 tablespoon of the butter over medium heat. Add the shallots and thyme and season lightly with salt and pepper. Reduce the heat to medium-low and cook gently, stirring often until the shallots are caramelized, about 10 to 15 minutes. Remove from the heat and set aside.

Heat a cast iron or heavy-bottomed sauté pan over medium heat. Add the remaining butter and swirl in the pan until it is melted. Place the two slices of bread in the pan and toast for a minute or two until just beginning to color. Divide the cheese evenly between the two pieces and top with the shallots.

Place the pan in the oven and cook 5 to 6 minutes until the cheese is melted and the bread is golden and crispy. Remove to a cutting board and carefully assemble the sandwich, placing together the two slices of bread. Cut in half on the diagonal and serve immediately.
Serves 1-2
Source: LA Times
Get more secret restaurant recipes on our Secret Recipe Forum: Go Here
Like Copycat Recipes? Get our Secret Recipes Cookbook Here.
Enjoy!
Until Next Time… Be Well!
Kind Regards,
RSN