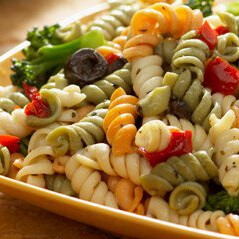 Ingredients:
1 can of corn
1 can of Red beans
1 can sausage (Sliced)
1 Red pepper (chopped)
1 Green pepper (chopped)
1 carrot (chopped)
1 Packet macaroni (Spiral)
4 tablespoons mayonnaise
1 Teaspoon vinegar
¼ cup olive oil
Salt
Pepper
4-5 drops of Worcester sauce
Shredded cheddar cheese
Method:
*Add corn ,red beans sausages and colored peppers carrot into a bowl.
*Add the macron in a pot of boiling water until ready.
Now for the sauce in a small bowl add mayonnaise ,vinegar,Worcester sauce and salt and pepper mix well.
*Divide the sauce in half , add half of the sauce on the vegetables mix, and then add the macaroni and the rest of the sauce . Last but not least add the cheddar cheese .