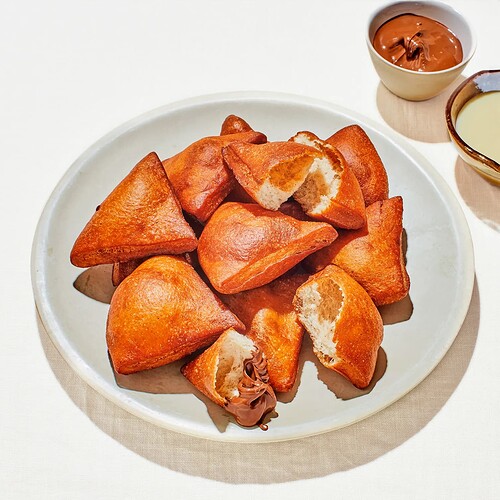 1 tsp. instant yeast
1 tsp. ground cardamom
2¼ cups all purpose flour, plus more for surface
¼–⅓ cup sugar
½ cup full-fat coconut milk
2 Tbsp. unsalted butter, melted
Vegetable oil (for bowl and frying; about 8 cups)
Chai, sweetened condensed milk, or Nutella (for serving)
Step 1
Whisk yeast, cardamom, 2¼ cups all-purpose flour, and ¼–⅓ cup sugar, depending on your sweetness preference, in a large bowl to combine.
Step 2
Whisk coconut milk, butter, and ¼ cup water in a measuring glass. Microwave until lukewarm, about 15 seconds. (Alternatively, heat in a small saucepan until lukewarm.) Pour into dry ingredients and stir with a rubber spatula until incorporated. Dough will appear shaggy and a bit dry.
Step 3
Transfer dough to a lightly floured surface and knead until soft and dough springs back when gently pressed, 13–15 minutes. (Alternatively, you can knead in the bowl of a stand mixer fitted with the dough hook on medium speed, 8–10 minutes.) Transfer dough to an oiled large bowl, cover with a kitchen towel or plastic wrap, and let it rise in a warm spot until doubled in size, about 2 hours.
Step 4
Transfer dough back to a lightly floured surface, cut into 4 equal portions, and roll each portion into ⅛"–¼"-thick rounds. Cut each round into 4–6 triangle-shaped portions, depending on the desired size.
Step 5
Pour oil into a large pot to come 2" up sides, clip thermometer to sides, and heat over medium until thermometer registers 325°. Working in batches of 2 or 3, carefully drop dough pieces into oil. They will sink at first, then float to the surface. Once they come to the surface, cook, pushing down, pouring oil over, and turning (this will ensure they puff up and are hollow in the center), until deep golden brown, 5–7 minutes. Using a spider or slotted spoon, transfer mandazi to paper towels and let drain.
Step 6
Serve warm with chai, sweetened condensed milk, or Nutella.