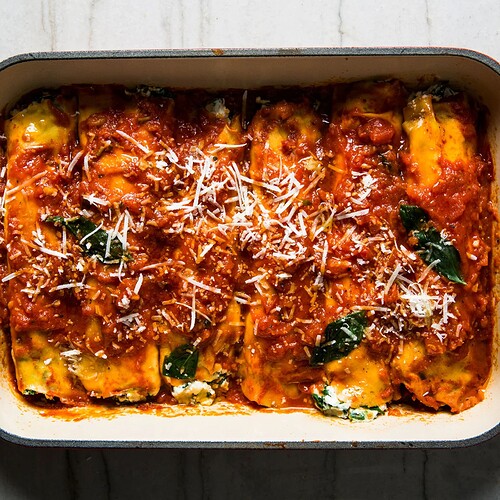 ½ cup chopped onion
1 large clove garlic, minced
½ package (10 oz.) frozen chopped spinach, drained
1 cup low-fat (1% fat) cottage or ricotta cheese
1 teaspoon dried basil
½ teaspoon dried oregano leaves
½ teaspoon Original Blend Mrs. Dash®
8 manicotti, cooked according to package directions and drained
1-½ cups fat-free spaghetti sauce
½ cup grated fat-free mozzarella cheese
In a skillet sprayed with nonstick spray, stir-fry onion and garlic over medium heat until soft. Add spinach, cottage or ricotta cheese, basil, oregano and Mrs. Dash®. Mix well, then stuff each manicotti with 3 tablespoons of the spinach mixture. Place stuffed manicotti in an 11" by 7" baking dish sprayed with nonstick spray. Pour spaghetti sauce over manicotti. Cover tightly with aluminum foil and bake in a preheated 350° oven for 45 minutes. Uncover, and scatter mozzarella cheese over top. Return to oven for 5 minutes. Serves 4.
Per serving: 231 cal. (5% from fat); 17.6 g protein; 1.25 g fat (0.38 g sat.); 38 g carbo.; 483 mg sodium; 4.4 mg chol.; 5.6 g fiber. Exchanges: 1 lean meat, 2 bread, 1 vegetable.
B-man