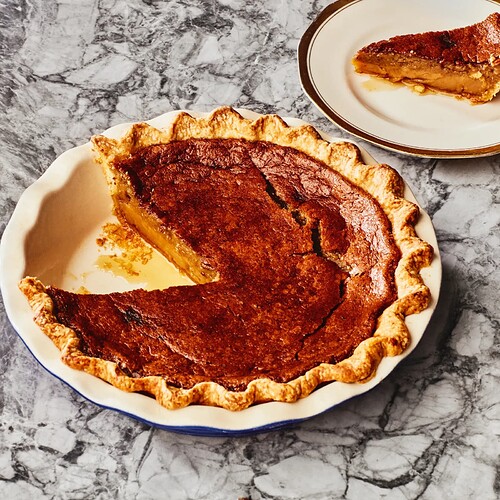 Pastry dough:
1 1/2 cups packed light brown sugar
2 large eggs at room temperature
1/2 cup heavy cream
1/3 cup pure maple syrup (preferably dark amber)
2 teaspoons unsalted butter, melted
Accompaniment:crème fraîche or unsweetened whipped cream
Preheat oven to 350°F.
Roll out dough into an 11-inch round on a lightly floured surface with a floured rolling pin and fit into an 8-inch (3-cup) glass pie plate. Trim excess dough and crimp edges decoratively.
Whisk together brown sugar and eggs until creamy. Add cream, syrup, and butter, then whisk until smooth. Pour filling into pie shell.
Bake pie in lower third of oven until pastry is golden and filling is puffed and looks dry but still trembles, 50 to 60 minutes. Cool on a rack to room temperature (filling will set as pie cools).
Note
If you don't have an 8-inch pie plate, substitute a 9-inch tart pan and prebake crust before baking with filling.