Are there any good recipes out there for Mardi Gras. I Love cajun food. Please post if you have any.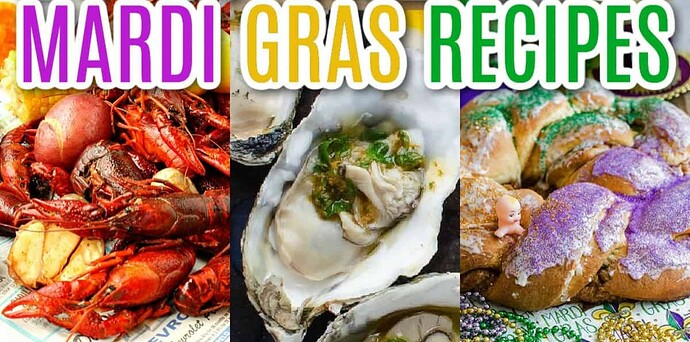 Cajun Casserole
1 lb. fresh (hot) sausage*, skinned and cut
2 cans whole tomatoes, drained and chopped
1 peeled eggplant, chopped
1 large onion, chopped
1 large bell pepper, chopped
3 or 4 medium zucchini, sliced in rings.
Brown sausage in large frying pan. Add the following: eggplant, onions, bell peppers, tomatoes, zucchini. Smother down, then transfer to a greased casserole dish. Sprinkle a lot of Parmesan cheese on top. Bake at 350F for 30 minutes. Salt and pepper to taste.
*You could also use shrimp or crawfish. It is great either way.
Cajun Rice Dressing
1 eggplant (about 1 pound), peeled and
2 cups water
3 tsp salt, divided
1/2 cup each chopped celery, onions, and green pepper
2 tbs butter or margarine
3 cups cooked
cup (4 oz) crawfish tails
1/2 cup each dry bread crumbs and chopped parsley
1/4 tsp each garlic powder and ground black pepper
1/8 tsp ground red pepper
1/4 tsp paprika
Combine eggplant, water, and 1 teaspoon salt in a medium saucepan. Bring to a boil; reduce heat and simmer 5 minutes. Drain. Cook celery, onions, and-green pepper in butter until tender crisp. Stir in eggplant, rice, crawfish, crumbs, parsley, garlic powder, and pepper. Turn into a buttered 2-quart casserole. Sprinkle with paprika. Bake at 375F for 25 to 30 minutes.
Makes 6 servings.
Cajun Cabbage Jambalaya
2 lb lean ground chuck
2 cups chopped
cup chopped celery
1 cup chopped bell pepper
2 cloves chopped garlic
2 quarts shredded cabbage
Two 10 oz cans diced tomatoes and green chili peppers
3 beef bouillon cubes
2 tbs vegetable oil
1/2 cup water
Put oil in a heavy 5 quart pot. Add ground meat and stir until brown. Add bouillon cubes, onions, celery, garlic and bell pepper. Stir and cook for about 15 minutes. Add tomatoes, undrained and water. Cook for a few minutes then stir in cabbage. Lower fire to medium and cook stirring often. Put lid on pot and cook until cabbage is crisp tender. If mixture is too dry add a little hot water and adjust seasonings. Add cooked rice until mixture is moist.
Chicken Jambalaya III
9 chicken thighs
3 med onions
4 ribs of celery
5 cloves
2 bell peppers
1 large can tomatoes
1 small can tomato paste
1 lb smoked sausage
Cayenne pepper
Chili powder
Parsley flakes
Worcestershire sauce
Hot sauceSalt and pepper
1 cup rice
3 bay leaves
Boil chicken and sausage until tender, and save liquid. Saute chopped onions, celery, pepper, garlic in light olive oil. Add cut up chicken and sausage, tomatoes and tomato paste. Add seasoning to taste. Cook for 30-45 minutes on low heat. Add 2 to 2-1/2 cups of reserved liquids and rice. Cook covered until rice is tender.
Pork Sausage Jambalaya
2 lb pork sausage
2 cups raw rice
1 cup onions
1 cup diced celery
1 bell pepper, chopped
1/2 cup onion tops
parsley
1/2 cup salad oil
Saute sausage in 1/2 cup salad oil and 1-1/2 cups water on medium heat in covered saucepan. Cook until water is evaporated. Then fry until brown. Add onions and 1 cup water and cook 15 minutes. Add celery, bell peppers, onion tops, parsley and 2 cups water with raw rice. Combine sausage and other ingredients. Cook over low fire for 40 minutes. Cover and stir.
Shrimp Andouille Jambalaya
Microwave
3 cups Cooked Rice
1 lb Seasoned, Cooked Shrimp
2 cups Sliced Andouille
1 cup Chopped Celery
1 Medium Chopped Onion
1 Clove Minced Garlic
2 tbs Margarine or Butter
4 Medium Cut Up Tomatoes
One 6 oz Can Tomato Paste
1/3 cup Water
1-2 tsp Creole Seasoning
1 tsp Lea & Perrins Worcestershire Sauce
1 Dash Louisiana Hot Sauce
*** Combine rice, shrimp, and sausage in a (1-1/2 quart) casserole dish; set aside. Combine celery, onion, garlic and margarine in a (1 quart) measure. Microwave on high (100%) 3 to 4 minutes or until tender. Stir in tomatoes, tomato paste, water, worcestershire sauce, and hot sauce. Microwave on high (100%) 5 to 8 minutes or until flavors are blended, stirring once. Add tomato to rice, shrimp and sausage; stir well. Microwave on high (100%) 8 to 10 minutes or until heated through.
Yield: 6 Servings
Beignets Au New Orleans
6 cups plain flour
2 teaspoons salt
1 teaspoon vanilla extract
4 tablespoons margarine
2 tablespoons brown sugar
2 tablespoons granulated sugar
2 cups milk, scalded
2 packages yeast
2 eggs
Peanut oil for fryingPowdered sugar
Utensils: mixing bowl, Fry Daddy
Mix flour, salt, vanilla and set aside. Place margarine and sugar in large mixing bowl. Heat milk. Do not boil. Stir often and do not scorch. Mix heated milk over sugar and margarine and stir until melted. Cool to temperature needed to activate yeast. Add yeast and dissolve. Add milk mixture and flour mixture to form batter. Add eggs and beat thoroughly. Cover with warm, damp towel and set in warm place. Dough should double in bulk in one hour. Punch and knead gently. Roll dough out on floured surface to quarter-inch thickness. Cut into 2 x 2 inch squares. Let rise once again (half-hour to one hour). Fry in oil at 380F. turning only once. Drain and dust with powdered sugar. Serve warm.
Serves 8
Cajun Flair Grilled Chicken Soup
1 large onion (diced)
2 cloves garlic (minced)
1 can Rotel tomatoes w/ Chiles (Mexican Syle if possible)
1 can diced tomatoes
1 can tomato sauce
1 package taco seasoning mix (I like Old El Paso)
1 can kidney beans (w/ liquid)
1 can pinto beans (w/ liquid)
1 cans or 2 black beans (w/ liquid)
1 can whole kernel corn
1 package Hidden Valley Ranch dry mix
4 ounces lime juice
1 can water
3 boneless chicken breasts
chili powder
salt
cayenne pepper
Sautee' diced onions over a medium heat for about 10 minutes (until wilted). Add 1 can of diced onions and 1 can Rotel tomatoes w/ Chiles. Allow these to cook for about a minute, constantly stirring to prevent sticking. Now add a can of tomato sauce (keep the can to use later to measure water). Allow this mixture to sit for a minute or so, and then add all of your other canned ingredients. Once all the canned ingredients are added, mix the taco seasoning mix and 1 cup of water inside the empty tomato sauce can. Pour this mixture into the pot.
Next, in a bowl, wisk the Hidden Valley Ranch dry mix into the lime juice (the mixture will probably have a few clumps in it; this is ok.)
Now add that mixture to the main pot as well and stir everything together.
In a skillet, or grill, grill 3 chicken breats until they are nearly cooked. Do not cook them thoroughly as they will dry up and not absorb any liquid. Next, cube the chicken breasts into 1/4 inch cubes. Add the chicken to the main pot and cook for one hour. Enjoy
This would go well with cornbread, or as a complement to any main entree'.
Cajun Chili
4 pounds lean stew meat
1 package of 12 hot links, cut into small nuggets
1 package Bayou Magic Petits Cajun Red Beans
1 package Shotgun Willie's Chili Mix (omit cayenne packet)
2 large sweet onions, chopped, reserve half for topping
1 package Kraft Colby Monterey Jack cheese
Six 12-ounce cans beer (water may be substituted)
Two 8-ounce cans tomato
box saltine crackers
In a large pot, cook beans according to directions on package. Thirty minutes before beans are done, add hot link nuggets. In other pot, combine stew meat, beer (or water) and chili mix.
Cook according to package directions. One hour before done, combine with beans and hot links, continue cooking. Add chopped onions 1/2 hour before done; continue cooking. Add crushed crackers and top with onions in bowls.
Cajun Ribs
2 tablespoons paprika
2 teaspoons salt
2 teaspoons onion
2 teaspoons garlic powder
2 teaspoons red pepper
1-1/2 teaspoons white pepper
1/2 teaspoon black pepper
1 teaspoon dried thyme leaves
1 teaspoon oregano leaves
4 pounds pork back ribs (about 2 whole slabs)
Combine seasonings. Rub on all surfaces of ribs. Place ribs on covered grill over indirect beat. Grill for 1-1/2 hours. Cut ribs into serving size pieces.
Serves 4.
Chicken Maque Choux
1 chicken, cut into serving pieces
salt, pepper and cayenne to taste
1/2 cup oil
12 ears fresh corn, cut from cob
2 chopped onions
1/2 chopped bell pepper
1 tomato, peeled and chopped
Procedure: Salt, pepper and cayenne chicken, brown in heavy pot in oil; remove from pot as it browns. Add remaining ingredients, stir and cook on med-high heat about 2 minutes, return chicken to pot, stir, cover and cook over medium heat about 30 minutes, stirring occasionally. Serve over rice.
Servings: 6
Hen & Sausage Sauce Piquante
1 hen
1 lb sausage, cubed
2 onions, diced
1 bellpper, diced
1 bundle onion tops, diced
1 can diced Rotell tomatoes
1 small can tomato sauce
flour
vegetable oil
Procedure: Season hen and cut into pieces. Heat oil in cast iron pot on medium-high heat. Put pieces in pot and stir often. Continue to brown chicken for about an hour adding water as chicken begins to stick to bottom. When hen is dark brown, add sausage, onions, bell pepper, Rotell tomatoes and tomato sauce. Fill with water to cover meat. Boil for one hour, checking water level occassionally. Cook until meat is tender (about 2 hours). Add onion tops and thicken gravy with flour.
Servings: 4
Chicken Andouille Gumbo
½ cup flour
½ cup oil
1 cup each of onions, bell peppers and celery, chopped
1 clove garlic, minced
1 hen
1 pound Andouille sausage
Salt, pepper, red pepper to taste
File, to taste
Procedure: First make a roux with flour and oil, stirring to mix and brown to the color you desire. When roux is done add onions, bell pepper, celery and garlic and cook until soft.
Servings: 4
Dirty Rice
1 bunch of green onions
1/2 bellpepper chopped
2 ribs of celery chopped
1/2 lb of chicken livers and gizzards, mixed
1/2 lb of calf's liver
1/4 lb of ground beef
3 tbls of oil
3 c cooked rice
1 tbls of dry parsley
1 tbls of chives
salt and pepper to taste
-Grind vegetables and meats
-Put oil in a heavy pot with lid. Add ground vegetables and meats. Cover pot. Simmer on low heat one-hald hours. Season, to taste.
-Mix rice and vegetable-meat mixture. Stir thoroughly. Add dry parsley and chives.
Smothered Okra
10 pounds of okra
Cooking Oil
2 large onions chopped
2 large bellpeppers chopped
2 large cans of tomatoes (or 4 fresh tomatoes peeled)
salt and red pepper to taste
-Wash okra and slice into 1/2 inch slices
-Pour oil to cover bottom of large heavy roasting pan; add okra, bellpepper and onion and blend. Cover tightly and cook in 300F oven for one hour.
-Add tomatoes and stir until well-blended; recover and continue to cook for at least two more hours. Stir occasionally to prevent sticking.
-When cooked add seasonings to taste and serve hot as a side dish, or freeze for later use in gumbo.
Redfish Courtbouillon
1/2 cup cooking oil
5 tbls of all-purpose flour
2 large onions chopped
1/4 c large bellpeppers chopped
3 whole cloves of garlic peeled and minced
6 ounces of tomato paste
3 stalks of celery, chopped
1/2 c chopped green onion
1/4 c chopped fresh parsley
6 ounces of tomato paste
salt and red pepper to taste
1/4 c olive oil
1 tbls italian seasoning
1 tbls sugar
1 c seafood stock
2 lbs of fresh redfish fillets, cut in pieces
-In a large saucepot, heat oil on medium-high heat. Add flour and stir until the consistency of the flour and oil mixture is like wet sand. Lower heat and stir constantly, cooking until you have a medium-bron roux.
-Add onion, garlic and celery and saute until cooked about 5 minutes
-Add bellpepper, green onion and parsley. Continue to saute until vegetables soften, about five minutes.
-Add tomoato paste, tomato sauce, olive oil, Italian seasonings, and sugar. Continue to brown and stir constantly. Cook until oil forms a skin on the top, about 10 minutes.
-Add stock and spicy tomatoes and simmer on low hear for about two hours. (the longer you simmer the better it will taste) Add stock and water as needed.
-Add redfish and continue to simmer for about 20 minutes or until the fish is cooked. Do not stir or you will break up your fish.
-Serve over rice
Southern Cajun Praline Recipe
1-1/2 cups sugar
1 tsp. vanilla
3/4 stick butter
3/4 cup light brown sugar
1/2 cup cream
1-1/2 cups pecans
Combine all ingredients.

Bring to soft ball stage (about 240 degrees).

Remove from heat and stir until mixture cools and thickens.

Spoon out on buttered wax paper.
FIREY HABANERO CHICKEN WINGS
3 pounds chicken wings
1 cup dark soy sauce
1/4 cup toasted sesame seed oil
1/4 cup minced fresh garlic
3 Tablespoons Hosin sauce
2 Teaspoons black peppercorns crushed
4 Habanero or scotch bonnet peppers
3 teaspoons chile paste
SPRINKLE CHICKEN WINGS WITH ESSENCE BEFORE COOKING!
ESSENCE
5 Tablespoons sweet paprika
1/4 cup salt
1/4 cup garlic powder
2 Tablespoons freshly ground black pepper
2 Tablespoons powder
2 Tablespoons dried oregano
2 Tablespoons cayenne
2 Tablespoons dried thyme
Directions: Mix all ingredients in a large sealable 1 gallon plastic bag & remove as much air as possible. Then massage mix into chicken wings thoroughly using hands. Flatten bag in fridge & turn every hour. Marinate at least 4 hours, overnight is better. Place wings on a cookie sheet so that they Do Not Touch. Preheat oven to 400 degrees & place tray on center rack. Once they start to brown, turn every 10 minutes. When wings bubble clear juices, they are Done!
Combine all ingredients together in a small bowl.
Blend well. Oven Temp: 350
Bourbon Street Chicken
4 chicken breasts
1 tsp. ground ginger
1/4 C. soy sauce
2 tablespoons dried minced onion
1/2 C. packed brown sugar
1/4 C. bourbon (to taste)
1/2 tsp. garlic powder
Directions: 1. Place chicken breasts in a 9x13" baking dish
2. Combine the ginger, soy sauce, onion flakes, sugar, bourbon and garlic powder and pour over chicken
3. Cover dish and place in refrigerator overnight
4. Preheat oven to 375 degrees F
5. In a covered dish, bake in preheated oven, basting frequently, for 1 hour or until chicken is well browned and juices run clear. Also good on the grill!
Note: If you double the recipe, make sure that the chicken is still in a single layer. Serving 5 Oven Temp: 375F
Creole Corn Bisque with Crab
1 1/2 T corn oil
1 C yellow onion, chopped
1 1/4 C carrots, chopped
1 1/2 C celery, chopped
1/2 C dry sherry
3 C corn kernels
1 bay leaf
2 quarts vegetable stock (use corn if possible)
1 C heavy cream
2 tsp. kosher salt
1 1/2 tsp. pepper
2 T tarragon, finely chopped
8 T flaked crabmeat
scallions and red bell pepper for garnish
Serves 8
Heat oil in a stockpot and sauté onion, carrot and celery until soft. Add sherry and reduce by 1/2. Add corn and bay leaf. Add vegetable stock and bring to a boil. Lower heat and simmer for 30 minutes or until vegetables are very tender. Pureé soup in a blender or food processor and return to clean stockpot. Add cream, salt and pepper. Return to stove, bring to a boil, reduce heat and simmer for 30 minutes. Let cool and add tarragon. Garnish hot soup with 1 tablespoon of flaked crab meat mixed with thinly sliced scallion greens and finely diced red pepper and chopped tarragon.
Mardi Gras King Cake
Traditional & Bread Machine Version
King Cakes are a huge part of Mardi-Gras traditions throughout the south from Western Louisiana through Eastern Alabama. The cake's origins date back to the Feast of the Epiphany or Twelfth Night, which honors the three kings present at the Christ child's birth. Which is where the custom of hiding a tiny baby doll in the cake, started.
In today's Mardi-Gras celebration, tradition calls for the person who gets the "lucky" piece of cake with the baby doll inside, to throw the next party – or on a simpler note, buy or make the next King Cake. You can pick up the tiny plastic dolls at any cake decorating or novelty supply, just be sure to warn your guests of what to expect as you don't want anyone choking!
The cake, which more closely resembles a rich, sweet bread than cake, is decorated in the traditional Mardi-Gras colors: green, representing faith, gold symbolizing power, and purple denoting justice.
Cake
1/2 C warm water (100-115° F)
2 T yeast
1/2 C sugar, plus 2 tsp.
3 1/2 - 4 C flour
1 tsp. nutmeg
2 tsp. salt
1 tsp. lemon zest
1/2 C warm milk
5 egg yolks
1/2 C butter
2 tsp. cinnamon
1 egg beaten with 1 T milk, for egg wash
Icing
3 C confectioner's sugar
1/4 C lemon juice
3-6 T water
additional sugar & food coloring for decoration (follow link for tinted sugar directions)
1 tiny 1" baby doll (see notes above)
Sprinkle yeast and 2 teaspoons sugar over warm water in a small, shallow bowl. Allow to rest for 3-5 minutes, then mix thoroughly. Set bowl in a warm, draft-free place until yeast starts to bubble up and mixture almost doubles in volume, about 10 minutes.
In a large mixing bowl, mix 3 1/2 C flour, 1/2 cup sugar, nutmeg, lemon zest and salt. In mixing bowl of a heavy duty electric mixer or food processor, combine yeast , milk and egg yolks. Gradually add dry ingredients, and softened butter, adding additional flour, as necessary to achieve a medium-soft ball. Knead dough, again adding flour if necessary, until smooth, shiny and elastic, about 10 minutes.
Place dough in a covered, buttered bowl , in a warm, draft-free place until doubled, about 1 1/2 hours.
In the meantime, butter a large baking sheet and set aside.
When dough has risen, remove and punch down. Sprinkle with cinnamon and form into a cylinder, then twist this cylinder into a circle. Pinch the ends together to complete the circle. Once again, cover and let rise until doubled, about 45 minutes.
Pre-heat oven to 375° F.
Brush top and sides of cake with egg wash and bake for 25-35 minutes, or until golden brown. Cool on wire rack completely before hiding baby doll inside or icing and decorating.
Icing
Mix sugar, lemon juice and 3 tablespoons of water until mixture is smooth, adding more water as necessary to achieve a smooth, spreadable consistency. Spread icing over cake and immediately sprinkle colored sugar in alternating color rows.
Bread Machine Version
To make this dough successfully in a Bread Machine, substitute milk for the water, making the liquid total 1 cup milk.
Just put the ingredients in the machine, as per manufacturer instructions, set it to the dough setting, and in a few hours you're ready to pick up the instructions from the rolling out point.
Crab-Stuffed Artichoke Bottoms
What's great about this dish for parties is that you an prepare everything the day before – in fact it's better that way as the flavors will have a chnace to develop.
12 artichoke bottoms, fresh or canned
1/4 cup butter
1/4 cup onion, diced
1/4 cup celery, diced
1/4 cup red bell pepper, diced
1 tablespoon garlic, minced
2 cups cooked spinach
1/2 pound lump crabmeat
1/4 cup tomato ketchup
salt and cracked pepper to taste
Louisiana Gold Pepper Sauce to taste
1/2 ounce Herbsaint*
1/2 cup seasoned Italian breadcrumbs
1/4 pound butter, melted
1 ounce sherry
2 tablespoons parsley, chopped
*or use Pernod as a substitute
Serves: 6
Prep Time: 1 Hour
Pre-heat oven to 350° F. If the artichoke bottoms are canned, soak in cold water for one hour to remove the brine and vinegar taste.
In a heavy-bottom black iron skillet, melt butter over medium-high heat. Add onion, celery, bell pepper and garlic. Sauté 3-5 minutes or until vegetables are wilted. Chop the cooked spinach very fine and add to the vegetables. Blend well and add lump crabmeat. Stir until all ingredients are well incorporated. Simmer 5 minutes and add ketchup, salt, pepper and Louisiana Gold. Lower heat to simmer and cook 10-15 additional minutes.
Add Herbsaint, blend into the crab and spinach mixture and remove from heat. Sprinkle in breadcrumbs and allow the mixture to cool slightly. Once cooled, stuff the center of each artichoke bottom with the crab and spinach mixture. Place the artichokes in a large baking pan and top with an equal portion of melted butter and sherry. Sprinkle with parsley and bake uncovered for 15-20 minutes. Serve two artichokes as an appetizer.
South Lousiaiana Shrimp Rémoulade
What's great about this dish for parties is that you an prepare everything the day before – in fact it's better that way as the flavors will have a chnace to develop.
Shrimp:
3 dozen (21-25 count) shrimp, peeled and deveined
2 quarts cold water
1/4 cup lemon juice
1 lemon, sliced
1 onion, diced
4 tablespoons salt
1/2 cup celery, diced
2 tablespoons cracked black pepper
3 bay leaves
Sauce:
1 1/2 cups mayonnaise
1/2 cup Creole mustard*
1/4 cup parsley, minced
1 tsp hot sauce
1/2 cup green onions, minced
1/4 cup celery, minced
2 tablespoons garlic, minced
1 ablespoon Worcestershire sauce
1/2 tablespoon lemon juice
salt and cracked black pepper to taste
*or substitute Dijon mustard
Serves: 6/2 Cups Sauce
Cook Shrimp:
Note: This step may be done the night before.
In a 4-quart stock pot, over medium-high heat, add water and all seasoning ingredients. Bring to a rolling boil, reduce to simmer and allow to cook 15 minutes for flavors to develop. Bring mixture back to a rolling boil, add shrimp and stir approximately 3-5 minutes. At this point, shrimp should be pink and curled. Test for doneness, being careful not to over-cook. Once water returns to a boil, shrimp should be perfectly done. Pour off boiling water and replace with cold tap water to stop the cooking process. Drain and place shrimp in a serving bowl. Cover with clear wrap and refrigerate.
Prepare Sauce
Combine all sauce ingredients in a 2-quart mixing bowl and whisk well to incorporate the seasonings. Once blended, cover and place in the refrigerator, preferably overnight. A minimum of 4 hours will be required for flavor to develop. When ready to serve, remove from refrigerator and adjust seasonings to taste.
Carnival Oyster Loaf Sandwich
Ideal for a Mardi Gras buffet and a "trumpet-tooting" loaf for hundreds of other occasions, this picture perfect stuffed oyster and spinach loaf can be prepared hours in advance, stored in the refrigerator, and heated in the oven about 45 minutes before serving. A round filled sourdough boule makes for a dramatic presentation, but a traditional Vienna loaf or baguette is equally festive. Serve with a toasty and moderate-bodied California Chardonnay.
1 pint medium sized oysters
6 slices bacon
1 10 inch round boule (round loaf of crusty bread)
4 tablespoons butter
1 minced garlic clove
3 eggs
3/4 C mayonnaise
2 C cooked chopped spinach
pinch of nutmeg
salt and freshly ground pepper
2 medium tomatoes, sliced
1/2 C freshly grated Parmesan cheese
Serves 6
Preheat oven to 350° F.
Cook the bacon in a skillet until crisp and brown; drain on absorbent paper.
Slice off the top of the boule, and hollow out the center, leaving about a 1 inch shell. Process the soft bread in a blender for crumbs for another use. Spread the inside of the lid of the bread with butter creamed with the garlic.
Whisk the eggs in a bowl with the mayonnaise; add the spinach, bacon, nutmeg, salt and pepper to taste.
Arrange half the oysters on the bottom of the boule, cover with half the spinach mixture, half the tomato slices, a layer of crumbs, and half the cheese. Repeat the layers, and replace the bread lid. Wrap the loaf in foil and bake for 45 minutes. Cut into 6 wedges with a serrated bread knife, and serve with a toss of watercress (optional).
Mardi-Gras Punch
This festive punch combines the traditional Mardi-Gras colors of green, representing faith, gold symbolizing power, and purple denoting justice. It's equally delicious with or without the alcohol, just add more grape.
Some prefer the flavor of the punch with ginger ale as opposed to lemon-lime sodas, but all work well.
1 ice ring
1 40 oz. bottle grape juice (more if making ice ring)
1 48 oz can pineapple juice (more if making ice ring)
2 liter bottle of ginger ale or lemon-lime soda
2 oranges
2 limes
1 fifth Vodka (optional)
Makes 8-9 quarts
Slice oranges and limes in thin round slices. Set aside.
Place ice ring in bottom of punch bowl, add juices, then soda and (if desired) vodka. Float orange and limes slices on top and serve.
Ice Ring Note: Freezing an ice ring out of pineapple and/or grape juice, instead of water, keeps the punch from getting diluted as the evening wears on. I usually like to make a couple of rings in advance of the party, so I can freshen up the punch if needed.
BBQ Shrimp
BBQ shrimp aren't really barbecued at all. Somehow the folks who came up with this very Sicilian dish full of butter and black pepper just called it what they called it. The good news is that once you start eating this messy shrimp and sopping up the sauce with every piece of French bread you can beg, borrow or steal, your mouth will be way too full to ask any questions.
2 cups unsalted butter
15 cloves garlic, peeled
3 pounds, head-on unpeeled extra-large (16/20 count) or larger shrimp
1 1/2 cups dry white wine
1 tablespoon Italian seasoning
3 tablespoons coarsely ground black pepper
1 tablespoon salt
3/4 cup Worcestershire sauce
1/4 cup Louisiana hot sauce
French bread for dipping
Serves 6
In a large saucepan, melt the butter over medium heat. Sauté the whole garlic cloves until the garlic begins to soften and the aroma is intense, 8 - 10 minutes. Add the shrimp, wine, Italian seasoning, salt, pepper, Worcestershire sauce and hot sauce. Raise the heat. Cook, stirring constantly, until all the shrimp are pink, about 10 minutes. Remove from the heat, cover, and let sit for about 20 - 30 minutes to allow the flavors to seep into the shrimp. Reheat before serving if necessary. Serve with plenty of crusty French bread to dip in the sauce.
Hoppin' John
Cooking black eyed peas at a low simmer instead of a boil will keep the skins from bursting and give the dish a better appearance. Also add salt after cooking is complete as it can make the beans tough.
1 lb. dried black eyed peas
1/2 lb. salt pork, cubed
1/2 lb. cooked ham, cubed
1 large onion, chopped
3 garlic cloves, minced
1 ham bone
1/4 tsp. (more to taste) crushed red pepper
pepper to taste
3 C cooked rice
Serves 8
Rinse peas and pick over, removing any small stones or foreign particles. Cover with cold water in a large pot, bring to a boil for a minute, remove from heat cover and let sit for one hour.
In a large skillet, saute the salt pork to render fat, add onion and garlic and cook until onion is soft, about 5-6 minutes. Add the onion mixture along with the ham bone and seasonings to the pot with the peas. Add enough water to cover the ingredients and bring to a simmer. Cover and cook for about 1- 1 1/2 hours or until black eyes peas are tender but not mushy. Season with salt and pepper to taste.
Serve over hot cooked rice.
Collard Greens with Ham Hocks
Allow plenty of time to cook this dish.
4 bunches fresh collard greens, cleaned and steamed
5 slices of bacon
1 smoked ham hock
2 med. onions, chopped
4-6 cloves garlic, minced
1 bunch of green onions (optional)
salt and pepper to taste
7 cups of water
Serves 8-10
If the collard green leaves are large, cut in half after lightly steaming.
Cook the bacon in a large stock pot, rendering as much fat as possible. Add water to the pot and bring to a boil. Add the ham hock, the chopped onion and salt and pepper to taste. Let mixture boil for 10 minutes. Add the collard greens, and bring to a boil. Reduce heat and let simmer for about 3-4 hours or until well cooked and most of th water is cooked away.
Here Some Cool Cajun Recipes for Mardi Gras:
CHICKEN ETOUFFEE or try this one from our forum

Ingredients:
1/2 fryer, cut in serving pieces 1 medium onion, finely chopped
1/4 cup oil paprika
salt and pepper
Directions:
Season fryer generously with paprika, salt and pepper. Heat oil in heavy bottomed pot
with a lid. Fry the chicken to a golden brown, turning the pieces occasionally. When meat
is brown cover with lid and reduce heat.

Cook about 30 minutes, adding a tablespoon water if necessary. Uncover and add onion. Cover and cook until tender, stirring occasionally. Serve with cooked rice.
---
COQUILLES ST. JACQUES (Scallops) or the Classic

Ingredients:
POACHING
1 C: dry white wine 1 bay leaf
½ Teaspoon salt 1 Pound Sea Scallops
½ Teaspoon pepper ½ Pound sliced fresh mushrooms
SAUCE
3 Tablespoons butter 2 Egg yolks
4 Tablespoons flour ½ Cup whipping cream
¼ C: scallop liquid or seafood stock ¼ Lemon juiced
¾ C: of whole milk 10 Tablespoons Swiss cheese
Salt and pepper for taste
Directions:
Combine all poaching ingredients except the Scallops and mushrooms. Bring to a simmer
for a few minutes; add Scallops and mushrooms and enough water to slightly cover
Scallops. Bring back to a simmer and lower heat so that liquid is not boiling but slowly poaching
for about 5 minutes.

Melt butter and mix flour to make a white roux. Do not let the flour brown. Cook slowly until mixture is smooth. With the fire turned off blend in the poaching liquid, then the milk. Cook for about 2 minutes on low fire. Blend the egg yolks and cream in a separate bowl. When blended drip the egg and cream mixture slowly into the hot sauce beating until sauce is smooth.

Return sauce to heat and stir for about 2 minutes then add the lemon juice, salt and pepper to taste. Add the Scallops and mushrooms to about 2/3 of the sauce and mix well with fire off. Butter Scallop shells or ramekins and add the Scallop and mushroom sauce mixture. Spoon remaining sauce over Scallops and top with grated Swiss cheese. Broil until cheese is melted and sauce is hot. Should be served immediately from oven.
---
GRILLADES

Ingredients:
4 Pounds of veal or beef round steak 1 Teaspoon thyme
½ Cup bacon drippings or vegetable oil 1 Cup water or beef stock
½ Cup flour 1 Cup red wine
2 Cups of chopped onions 3 Bay leaves
1 ½ Cups of chopped green onions 3 dashes of Worcestershire sauce
1 Cup chopped celery ½ Cup chopped parsley
4 Cloves of garlic, chopped fine Salt, red and black pepper to taste.
3 Tomatoes (medium) chopped
Directions:
Start by cutting steaks into serving-size pieces and removing any external fat. In large heavy bottomed pot add bacon drippings or oil and brown meat well. After meat is well-browned (remember the browning gives the flavor) set aside. Add flour to the same pot with drippings and stir continually, making a roux. Cook until the color of a penny; add onions, green onions, celery and cook until soft and limp.

Next add the garlic, tomatoes thyme mixing all ingredients together. Add water or stock, wine, bay leaves, salt, pepper and Worcestershire sauce. Simmer all ingredients for 10 minutes add veal or beef pieces of meat back to pot stirring well. Cover and cook until meat is fork tender but not falling apart.
Note: You can add water during the cooking process if gravy gets too thick. Taste during the cooking for seasoning (salt and pepper) and add if needed. You can always add if you think Grillades need more seasoning but seasoning is hard to remove. When seasoned and meat very tender add parsley and serve over grits.
---
REDFISH BEIGNETS

Ingredients:
2 - 3 pounds redfish
Hot sauce
Marinate redfish in hot sauce for 1 hour or more.
Beignet Breading:
3 cups flour 1 cup cornstarch
1 tablespoon paprika 1 teaspoon cayenne pepper
2 tablespoons salt 1/2 teaspoon garlic powder
Roll redfish in flour mixture and deep fry at 350 degrees until fish pieces float. Remove
from deep fry and place on a paper towel.
Beignet Sauce:
1 cup mayonnaise 1/4 cup sour cream
Chopped parsley, to garnish 1 tablespoon Dijon mustard
Salt and pepper to taste
Mix together the above ingredients well.
Place a leaf of Bibb lettuce on a salad plate. Spoon beignet sauce onto lettuce. Place redfish
beignets on plate. Garnish with a carrot curl and serve. Serves 4.
---
Ingredients:
¼ Pound of butter (1 stick) 6 Ears of fresh corn, cut off cob
2 Large onions, chopped 2 Medium tomatoes, diced
2 Cloves of garlic, diced fine ½ Cup milk
1 Bell Pepper, chopped Salt, black and red pepper to taste
Directions:
Sauté onions, garlic and bell pepper in heavy bottomed pot with butter for 6 minutes or until mixture starts to soften. Next add the corn that has been cut off of the cob along with its milk (its own juices). Stir to mix all ingredients and cook on medium heat for about 10 minutes then add tomatoes, milk and seasoning to taste.

Simmer or about 1 hour covered on low heat. Stir occasionally and if mixture becomes dry add a little water. When finished cooking check seasoning; add black pepper if not spicy enough.
---
Other Mardi Gras Recipes.