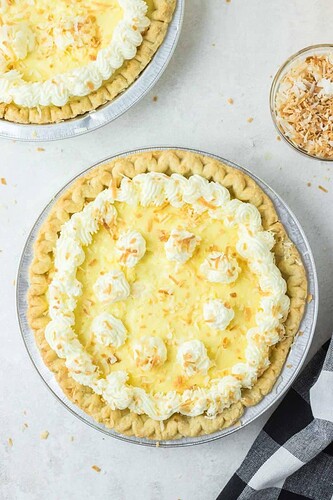 3 cups whole milk
1 4.6 ounce box cook & serve vanilla pudding mix
¼ teaspoon vanilla extract
2 cups coconut flakes divided use
1 8 ounce container Cool Whip
2 baked pie shells
2 cups heavy cream
2 tablespoons sugar
Heat milk and pudding in a pot over the stovetop on medium-high heat, stirring constantly.
When pudding just begins to bubble, remove it from heat. Stir occasionally as the pudding cools.
About 5 minutes after you remove the pudding from the heat, add ¼ teaspoon vanilla extract and 1½ cups of coconut. Stir to combine.
Toast the remaining ½ cup coconut in the oven at 350°F for about 6 to 8 minutes. When the coconut begins to turn light brown, remove it from the oven.
When pudding has completely cooled, add 5 ounces of Cool Whip and fold or gently stir until the Cool Whip is fully incorporated. You will have some Cool Whip left over.
Pour the filling into the two pie shells. Place pies in the refrigerator as you finish the whipped cream.
Prepare the whipped cream by placing heavy cream and sugar into a chilled bowl.
Beat with an electric mixer on high speed until the whipped cream has stiff peaks.
Place the whipped cream into a pipping bag.
Pipe the whipped cream around the edges and then make 8 small dollops of whipped cream in the center of the pie.
Sprinkle toasted coconut on the whipped cream.
Refrigerate the pies until thoroughly chilled, about 4 hours.