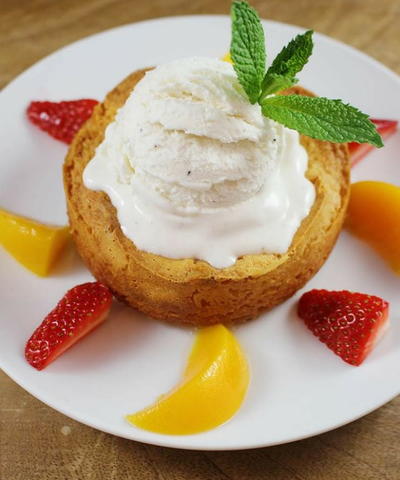 CAKE BATTER INGREDIENTS
(Makes 4-6 cakes)
2 cups (4 sticks) unsalted butter, room temperature
4 ounces cream cheese, room temperature
2 1/4 cups granulated sugar
2 large eggs, room temperature
1/2 teaspoon fine sea salt
1 1/2 cups all-purpose flour
1 1/2 teaspoons pure vanilla extract
CREAM CHEESE LAYER INGREDIENTS
4 ounces cream cheese, room temperature
1 egg, room temperature
1/3 cup granulated sugar
1/2 teaspoon vanilla extract
Pre-heat oven to 325 degrees.
PREPARE THE CAKE BATTER:
In a stand mixer cream butter, cream cheese, and sugar for 1-2 minutes. Add eggs one at a time and beat on low for 20 seconds after each addition. Add vanilla, and mix just until combined. Whisk flour and salt together in a small bowl, then add to creamed cake mixture. Beat on low until just incorporated, making sure not to over beat.
PREPARE THE CREAM CHEESE LAYER:
In a small bowl whip together cream cheese and granulated sugar until creamed, add egg and vanilla extract.
Pour cake batter into prepared springform pans then top with a layer of the cream cheese mixture. I was able to place about 1/2 cup of cake batter and 1/4 cup of cream cheese layer in each pan. Be sure not to overfill. Bake for 60 – 75 minutes, or until tops are golden brown and a toothpick comes out clean when inserted into the center of the cakes.
Gently remove cakes from pans, and place on plates, and top with a generous scoop of vanilla bean ice cream. Garnish plate with sliced strawberries, and peaches, and top ice cream with a sprig of mint.